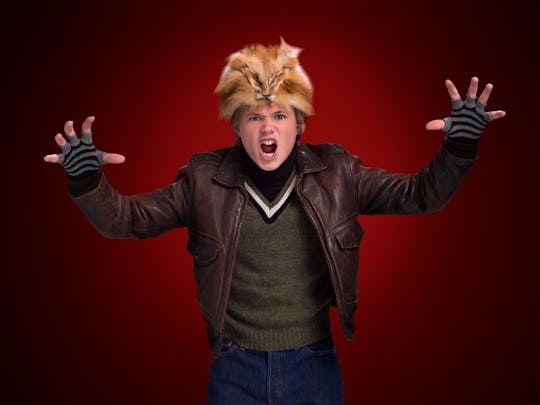 Tommy Garcia/FOX
Scut Farkus Is Back In A Big Way In 'A Christmas Story Live!'
I find that child characters are pretty memorable and beloved in film and TV (It and Stranger Things are good examples from this year). Child villains? Even more so. Said villain from classic movie A Christmas Story was Scut Farkus. So who plays Scut Farkus on A Christmas Story Live!? Sacha Carlson may not be nationally known yet, but I'd bet after Sunday night he'll be on his way to being a household name. The 14-year-old San Luis Obispo native is new to national productions and television, but he's one of the new child actors chosen to be a part of this live event.
For those who haven't seen A Christmas Story (or haven't rewatched it for the holiday season yet), Scut Farkus is a legendary bully. He doesn't have a huge role in the movie, but he does terrorize Ralphie and his friends. At one point he threw a snowball at Ralphie and called him a "crybaby." After having enough of Scut's bullying, Ralphie beats him up. It's Scut's last appearance in the film, so his fate isn't known, but at one point he was definitely a big fixture in Ralphie's life (and the catalyst to stand up for himself after nonstop terrorizing).
Carlson will take on the role as Scut in the live musical airing Sunday, Dec. 17. It's his big break, as he hasn't been involved in such a huge production before. His mother, Louise Carlson, said that he's wanted to be involved in entertainment since he was little. He started performing at 5 years old. His mother told The Tribune, a local paper in San Luis Obispo, that "He likes to be on stage... It's his personality."
Up until last year, Carlson's been involved in local shows in California. He then began to study acting at Actor's Edge in San Luis Obispo. Three years ago, a talent agency discovered Carlson at Actor's Edge. Not only did Carlson act, but he's also a tap dancer — which helped him nab his role in A Christmas Story Live!. "Finally, all of my work is starting to pay off," he told The Tribune. "That just feels so good to me."
Carlson will act alongside television and live theater veterans like Maya Rudolph, Matthew Broderick, and Jane Krakowski. "All those guys are my heroes," Carlson told another local paper, New Times. "And I look up to them so much, and to be working with them is a dream come true. They're all kind and genuine." Not only is it a coup for Carlson to act alongside A-listers, but the role of Scut is really important to him. He, like most of us, has been watching A Christmas Story for years. "I love how as a kid everything seems so important and if something goes wrong, it's the end of the world," he told New Times. "I find it funny now, but when I was little, I could relate. It's a reminder of my childhood."
It's unknown whether Carlson will be singing, but given that he's a tap dancer, there's a good chance that viewers will see Scut Farkus dance on stage. Given that this is Carlson's first acting gig outside California, it'll surely be one of the biggest nights of his life thus far. This may be the start to a long IMDb page (he's only 14, after all, so he's just getting started).
While Scut Farkus didn't have a happy ending in A Christmas Story, I hope Carlson's big break results in only more and more live productions and television appearances.
Check out Romper's new video series, Romper's Doula Diaries:
Watch full episodes of Romper's Doula Diaries on Facebook Watch.