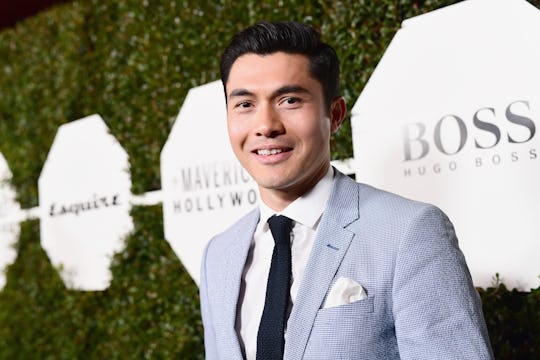 Emma McIntyre/Getty Images Entertainment/Getty Images
Henry Golding Wowed You In 'Crazy Rich Asians,' & He'll Do It Again In 'A Simple Favor'
A few months ago, Blake Lively deleted all of her Instagram posts. It was a momentary shock to fans, but quickly became apparent as a marketing stunt for her new film, out this weekend — starting on Friday, Sept. 14. The movie also stars Anna Kendrick as Lively's character's best friend. But who plays Sean, Lively's husband in A Simple Favor?
That's none other than Henry Golding, the dashing star who burst onto the scene in the recent hit Crazy Rich Asians. Though that was his first film production, Golding has been in front of the camera for a long time as a presenter and travel host for the BBC and Discovery Channel, according to Vulture. Before that, he worked as a hairstylist for about two years in his hometown of London, the outlet reported.
In A Simple Favor, Golding plays Sean, husband of Emily, who is a fashion mogul, mom, and best friend to Kendrick's character Stephanie. When Emily goes missing, Stephanie chases down clues to her friend's disappearance and, as you can see in the trailer, also chases down Sean.
Golding's casting in the movie that has become summer's hit seemingly came out of the blue, mostly to the actor himself. Vogue recounted how an accountant on Crazy Rich Asians mentioned him one day as someone she'd seen hosting at an event she attended some time back. At the moment, Crazy Rich Asians was in a casting emergency, with director Jon Chu unimpressed by the Asian actors — both known and unknown — being brought to him, as Vogue reported.
According to Vogue, Chu checked out Golding's Instagram page and was impressed by the videos posted there from all over the world. Chu discovered that he and Golding shared one Facebook friend who introduced them, according to Vulture, which led to a Skype session, audition tapes, and a chemistry read before he won the role.
Golding's mother is Malaysian but his father is British, according to Variety, so he was wasn't too surprised when he heard grumbling about his casting, with some people saying he wasn't "Asian enough." "To be honest, I wasn't shocked. I wasn't saddened. I was almost expecting it," he told Variety. "I've had it my entire life […] not being white enough to be living in England without sort of being noticed [and] coming back to Asia and not being Asian enough."
He never let it bother him though. As he told Variety, "That's something I never let affect my work. I'm super confident in who I am. And I am Asian, so there's no two ways about it. Having to explain myself was something that I didn't think I needed to do."
For A Simple Favor, though, Golding's Asian heritage was nothing but a plus to director Paul Feig, who often seeks out diversity in his cast members. "I really wanted to make sure we had a very inclusive cast and I also really wanted to find somebody new who could be like my Cary Grant. So when I saw Henry for the first time [I thought] 'that's him'," Feig told ABC News.
Golding has been married for two years to TV presenter and yoga instructor Liv Lo, according to Slate. The former model described how she was struck by Golding's gallantry following the tsunami and earthquake the rocked Japan in 2011. "Henry got me out of the city to join him in the Perhentian [Islands] in Malaysia. […] The demonstration of character proved that he is a man of his word; that he is serious about our relationship and cares about me," Lo told Harper's Bazaar Singapore.
He's such a gentleman, he won't kiss and tell when it comes to his two co-stars in A Simple Favor. In fact, ABC News tried to get him to spill the beans on who is the better kisser, but he declined. "I'm going to stay very neutral and say both girls are absolutely amazing," he told the outlet. "Oh my wife is going to kill me — I love my wife!"
While he may demure to make a choice there, it's a fair bet that new Henry Golding fans are hoping he'll make the choice to continue his acting career. Look for him in theaters in A Simple Favor starting Sept. 14.