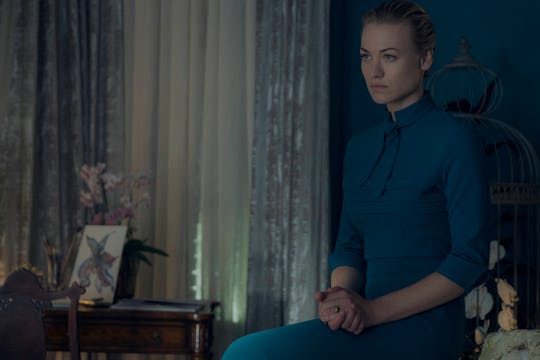 George Kraychyk/Hulu
Mrs. Waterford On 'The Handmaid's Tale' May Look Familiar
The Handmaid's Tale portrays a terrifying future in which some women are forced to be Handmaids, bearing the children of political leaders who have infertile wives. Though the show focuses on the lives of the Handmaids through the eyes of the protagonist Offred, it also shows how other women live in this new world order as well. Besides the Handmaids, there's also the "Aunts" who train the Handmaids into being subservient to men, and there's the wives of those men. Through Mrs. Waterford, the wife of the Commander Offred is assigned to, fans can see the wives' side of things as well. So who plays Serena Joy Waterford on The Handmaid's Tale? Yvonne Strahovski got the role.
Most fans will probably recognize Strahovski as Sarah Walker on the popular NBC series Chuck. She's also very well known for her role as Hannah McKay on Dexter. Most recently, you may have also seen Strahovski in 24: Live Another Day and The Astronaut Wives Club, which briefly had a home on ABC. She's also appeared in feature films, such as The Guilt Trip, Manhattan Night, and All I See Is You. Additionally, she will be in He's Out There, which is due out later this year, and The Predator, which comes out next year.
Serena Joy Waterford is viewed as a villain in The Handmaid's Tale, but she also shows a sad truth about what it means to be a woman, no matter what your status is, living in a restricted, male-dominated society. Warning: book spoilers ahead!
In the novel, during pre-Gilead days, Serena was a gospel singer then an anti-feminist activist and crusader for "traditional values." As the Commander's wife, she now sits at the top of the female social ladder, though she continues to be desperately unhappy. Even though she is the most powerful woman that can exist in this new world of Gilead, she still lacks any real power, which she seems to take out on the other women around her, especially Offred. Serena jealously guards every claim she has to status and treats the Handmaids in her household cruelly.
It'll be interesting to see how Serena's character changes at all in the show, especially considering how much younger she is on the show than in the novel. Will she eventually decide to turn against her husband or will she continue to suffer silently, continuing to take out her unhappiness against Offred? It'd be awesome to see Serena join the resistance, but it seems highly doubtful. Unfortunately, Serena represents those who would rather remain silent than dare speak against the men who run Gilead.
New episodes of The Handmaid's Tale become available on Hulu every Wednesday. You can stream the first three episodes now.