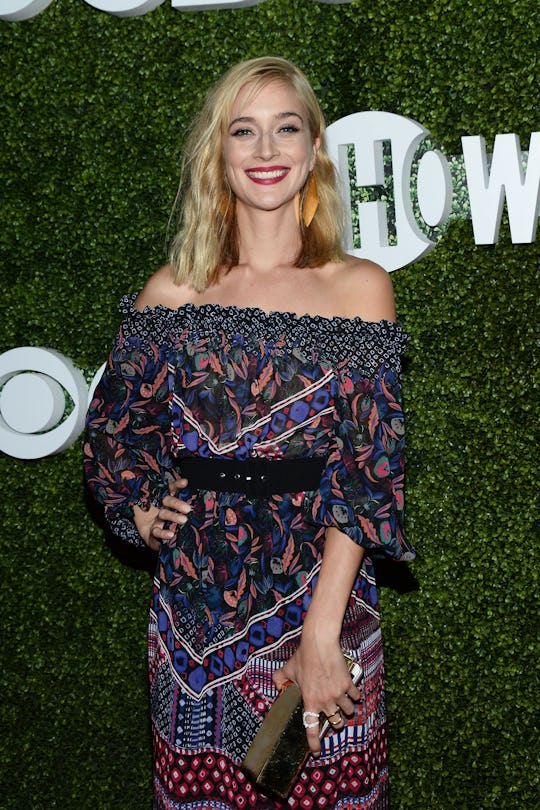 Matt Winkelmeyer/Getty Images Entertainment/Getty Images
There's A Reason This 'UnREAL' Star Looks So Familiar
In the upcoming third season of UnREAL, things are going to be a little bit different. Instead of Everlasting being led by a male suitor, a thirty-something female venture capitalist named Serena Wolcott will be running the show. But who plays Serena Wolcott on UnREAL? There's a good chance actress Caitlin FitzGerald is a familiar face, because she has more than a few credits to her name.
Originally hailing from Camden, Maine, FitzGerald started acting in community drama productions when she was just eight years old. According to an interview with The Free Press, she went on to study at NYU's Tisch School of the Arts, snagging bit parts in indie movies and a Law & Order episode after graduation. Though she'd performed on stage and screen, her first role in a major motion picture came when she snagged a spot as one of Meryl Streep and Alec Baldwin's kids in the 2009 romantic comedy It's Complicated. There's a good chance that was the very first thing you saw her in, since it was her most high profile part at the time.
That led to more guest spots on television (including Blue Bloods and Gossip Girl, among others) and in smaller films. FitzGerald kept working regularly, but not just as an actress. She co-wrote and starred in Like the Water in 2012, a movie that had a lot of relevance to her personal life.
She told The Free Press that the film had been inspired by the loss of a close friend when she was young, and she returned to Camden for filming. She described "that first moment when you lose someone" as "a real coming of age," while also discussing the pressure she felt both writing and starring in a movie "I've never felt such fear," FitzGerald said, though she added that that was "what I like about acting."
FitzGerald sounded positive about being "a filmmaker and not an actor" in the interview, but she hasn't written since Like the Water. However, her acting career has taken off. She played Libby on Master of Sex for several seasons, but also had stints on Rectify and Code Black. She appeared in The Show in 2017 as well, plus she has two more movies coming out this year: All I Wish and The Man Who Killed Hitler And Then Bigfoot.
Now FitzGerald is taking on Serena on Season 3 of UnREAL, but that's not all she'll be busy with over the next few months. She'll co-star in Starz's adaptation of Sweetbitter as Simone, whom The Hollywood Reporter describes as "a sommelier who is the embodiment of self-possession." The show premieres on May 6.
While talking to The New Potato, FitzGerald explained what kind of stories appealed to her as an actress, saying:
I am drawn to stories that have big ideas contained within them — that are asking hard, even unanswerable questions. I am interested in watching and playing characters that feel like real, dimensional, fallible, complex human beings. In this political climate, I am hungry for stories about underrepresented or threatened peoples, and also for stories that are unapologetically optimistic.
Taking that into account, it's no surprise that many of FitzGerald's roles have been so fascinating and complicated, from Libby Masters to Serena Wolcott, who promises to be a disrupting force in the trailer for UnREAL Season 3. Fans of the actress have plenty to look forward to over the course of the year, since it seems like she has so many exciting projects in the works. If you want to see what she's up to next, then tuning in to UnREAL on Lifetime on Feb. 26 might be the best place to start.
Check out Romper's new video series, Romper's Doula Diaries:
Watch full episodes of Romper's Doula Diaries on Facebook Watch.