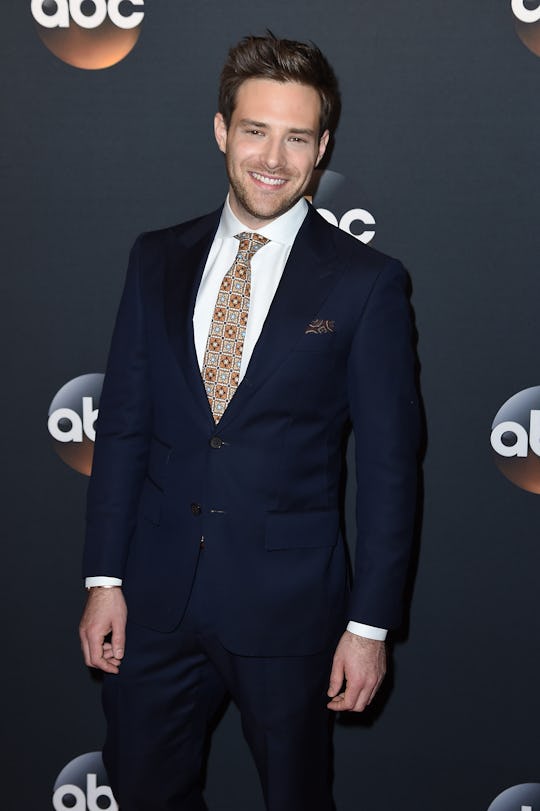 Nicholas Hunt/Getty Images Entertainment/Getty Images
The Actor Playing Seth On 'For The People' Is No Stranger To The Courtroom
Pretty much everything Shonda Rhimes touches turns to gold, which means ABC's For The People cast is in for an exciting ride. The legal drama has a mix of new and veteran actors, which is why you might be wondering who plays Seth on For The People? He looks so familiar, right?
That's because he's been in a ton of television shows, most notably NBC's Outsourced, in which he plays Todd Dempsey. But he was also in Mr. Robot, The Good Wife, and Younger, among other roles. Rappaport was born in Texas but moved to New York City to attend the Juilliard, where he studied acting. He's also done theater and even starred in a Kay Jewelers holiday commercial before he got his start on primetime dramas.
In addition to being an actor, he also has a busy personal life. Last September, he got married to Megan, his high school sweetheart. They first had a long distance relationship and then ended up using Facebook to reconnect before she eventually moved to the Big Apple to be with him.
The proposal story is too cute, according to the Knot page for their wedding. Rappaport vowed that if he booked Fiddler on the Roof on Broadway, he would propose to Megan onstage. He did, and he did. Not during the production, obviously.
Rappaport has always had a thing for being over the top. He told Broadway.com that when he was 9-years-old he started a motorcycle "gang" and had a treehouse karate club. He was also dreaming big. "I was Indiana Jones for a long time. My dream was to be a mad scientist. In hindsight, it makes sense that now I'm an actor," he said. Rappaport added that it was watching someone play Mercutio in a high school production of Romeo and Juliet that made him realize acting was the way to go.
Namely the Queen Mab speech. "That just rattled my bones. I feel like that was the exact moment I got bit by the bug," he added in the same interview. Theater really is where he started out. He won the highly competitive acting prize at Juilliard and then got right into the New York City theater scene.
He worked with Sarah Paulson and Bobby Cannavale in the off-Broadway show, A Gingerbread House. And he got to work with Meryl Streep and Tommy Lee Jones in Hope Springs. Streep was actually the one who taught him to be humble. "It was cool to see someone as powerful and legendary as Meryl be so human and real. I was pinching myself the whole time," he stated.
All of those serious and big roles had Rappaport thinking that he would be a dramatic actor, not a comedic one. He told TVGuide when he got the role as Cary, a fourth year associate at Lockhart & Gardner on The Good Wife:
When I first started out, I didn't expect for comedy to be my first big break [with Outsourced]. I always saw myself as more of a dramatic actor. It's my first long stint on a TV drama, so I kind of look at this as a bit of a training ground for how to do procedural drama well.
That Good Wife stint likely prepared him for his new role as Seth on For The People, which is sort of like a Grey's Anatomy, but set in New York's Federal Court. It was touch and go for a while, with production shooting down late last year for a few cycles while they overhauled the script and recast two of the leads. Luckily, Rappaport made the cut. Hopefully, he and the show will stick around.
Check out Romper's new video series, Romper's Doula Diaries:
Watch full episodes of Romper's Doula Diaries on Facebook Watch.