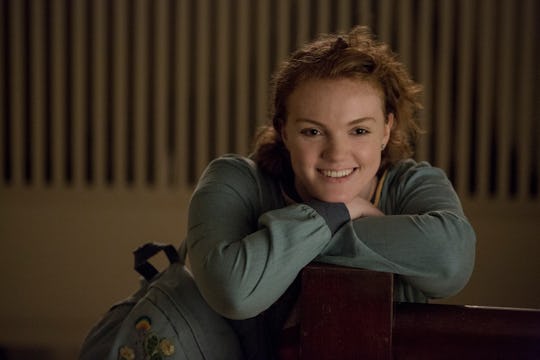 Aaron Epstein/Netflix
You're Sure To Recognize The Star Of Netflix's 'Sierra Burgess Is A Loser'
Netflix is cornering the market on teen romcoms with long names, first debuting To All The Boys I've Loved Before in August and following up with Sierra Burgess Is A Loser on Sept. 7. Sierra Burgess tells a familiar story of insecurity, friendship, and first love that might resonate with anyone who struggled through their teen years. But even more familiar is its leading lady. So who plays Sierra Burgess in Sierra Burgess Is A Loser?
Shannon Purser is already a recognizable presence to most Netflix subscribers. She skyrocketed to sudden fame after an appearance on the hit series Stranger Things playing Barb Holland, Nancy Wheeler's bespectacled bestie. Fans latched onto Barb immediately and were heartbroken when she was killed, launching many a meme and hashtag (#JusticeForBarb and #WeAreAllBarb, just to name a couple) in her honor.
Barb isn't the only credit to Purser's name, though Stranger Things was her first (and undeniably biggest) role. She's snagged several other parts since then, in both film and TV. She appeared in the horror movie Wish Upon as June Acosta, then on the CW's Riverdale as Ethel Muggs. According to Teen Vogue, Ethel will be a part of the show's upcoming third season as well. Purser teased that "there's a new side of [Ethel that fans] haven't seen before."
Purser lent her voice to several episodes of the TBS animated series Final Space, as well as the audiobook for Becky Albertalli's Leah on the Offbeat. The novel is a follow-up to the popular Simon vs. the Homo Sapiens Agenda (which became the film Love, Simon), told from the point of view of secondary character Leah Burke. Purser appeared in the first season of NBC's since-cancelled Rise in a small recurring role, but she'll be stepping into the lead for Sierra Burgess.
Acting had always been of interest to Purser, according to an interview with Vulture. She took part in local theater and acting groups while growing up in Atlanta, and it was through one of those groups that an agency first discovered her. She began to audition regularly until she landed Stranger Things — but her life didn't change overnight, even though the fans seemed to embrace Barb that fast. She kept her job at a nearby movie theater and continued to work until she realized she was getting too much attention. "People started showing up at work, and I figured maybe I should lay low for a while," she told Glamour, laughing. "But it's been a really good job!"
Barb wasn't just a success with fans, either. She earned Purser critical praise, with Vanity Fair calling her "Stranger Things' biggest breakout character." She received an Emmy nomination for Outstanding Guest Actress in a Drama Series, too. Barb definitely gave Purser her start, but she's up for the challenge of something new. And Sierra Burgess is an especially meaningful opportunity, because it allows her to reinvent the teen movie leading lady archetype. As Purser explained to the NY Post:
It just seemed so glamorous to fall in love with some handsome man in a movie. I don't know if I ever expected it to really happen just because I haven't seen a lot of romcoms with girls who look like me before. I'm very grateful to be able to change that and to sort of help redefine what beauty is and who deserves to have their story told.
Viewers barely got to know Barb before she was gone, but when Sierra Burgess Is A Loser premieres on Netflix, the audience will have plenty of time to get to know Purser's newest heroine.