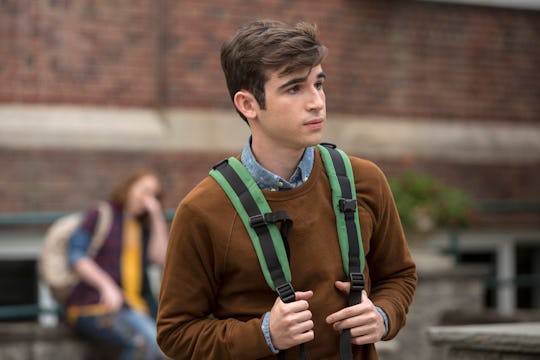 Eric Liebowitz/NBC
Simon From 'Rise' Brings Life To A Brand New Character
After This Is Us breaks your heart with its season finale on Tuesday night, you can be uplifted by NBC's new musical drama series, Rise. The new show follows a group of kids in a working class neighborhood as they begin to find themselves working together on the school musical, Spring Awakening. One of those students is Simon Saunders, but who plays Simon on Rise? Ted Sutherland is bringing life to a new character.
Unfortunately, there's not much known about Sutherland just yet as he's a star on the rise. According to his cast bio, Sutherland hails from New York and got his start in theater before moving on to television and film. Most recently, you may have seen him on the HBO series, The Deuce. Prior to that, he worked alongside Kiernan Shipka in the TV movie, Fan Girl, and he's also made appearances on Madam Secretary, Law & Order: Special Victims Unit, and Eye Candy.
On the big screen, Sutherland starred in the indie film Dovid Meyer as the titular character. He was also in the indie film Fading Gigolo, which won the Audience Award and the Best Feature Award at the Miami International Film Festival. On the stage, Sutherland has appeared in Lost in the Stars and Fanny at Encores!, a popular annual showcase at the New York City Center, and he was in Halfway, Nebraska at the New York International Fringe Festival.
As for his social media presence, Sutherland doesn't post too often but he does have an Instagram and Twitter account where he sometimes shares personal photos. Based on his Instagram, he appears to be in a serious relationship with actress Katherine Reis, who you may recognize from Unbreakable Kimmy Schmidt (she played Simone). The couple have been together since at least May of last year, though it could've been longer; Sutherland's Instagram posts don't begin until around that time.
Besides sharing cute photos with his girlfriend, Sutherland also shares pictures of himself with the cast of Rise. He also appears to enjoy messing with his friends and unlike other celebs' Instagrams, which can sometimes look very polished and curated, Sutherland's page is filled with fun and goofy images of himself and the various people in his life. He additionally seems to have a strong interest with Chicken Little, which is also his cover photo on his Twitter. I'd love to learn more about that, but unfortunately there isn't much of an explanation. Perhaps he's just a fan.
Sutherland's character on Rise, Simon, is a bit different than Sutherland. In an interview with Nothing But Geek (video shown below), Sutherland called Simon "straight laced." He added, "He's struggling with a lot of things internally. Those struggles he works through them through this new musical — Spring Awakening — and it helps him develop."
Sutherland also opened up about his thoughts on the show and why he thinks it's so important. "I think it's incredibly important that we address these issues because these are the real issues that affect people," he said. "Not everything is shiny and happy all the time. These are like real, real life issues that affect people so absolutely we have to address them."
He went on to say, "Even if you just look at the pilot the characters that we're bringing, their stories absolutely need to be told and can be discussed." You can see Sutherland as Simon when the special premiere of Rise airs on Tuesday, March 13 at 10 p.m. EST right after This Is Us on NBC. You won't want to miss this!
Check out Romper's new video series, Romper's Doula Diaries:
Watch full episodes of Romper's Doula Diaries on Facebook Watch.