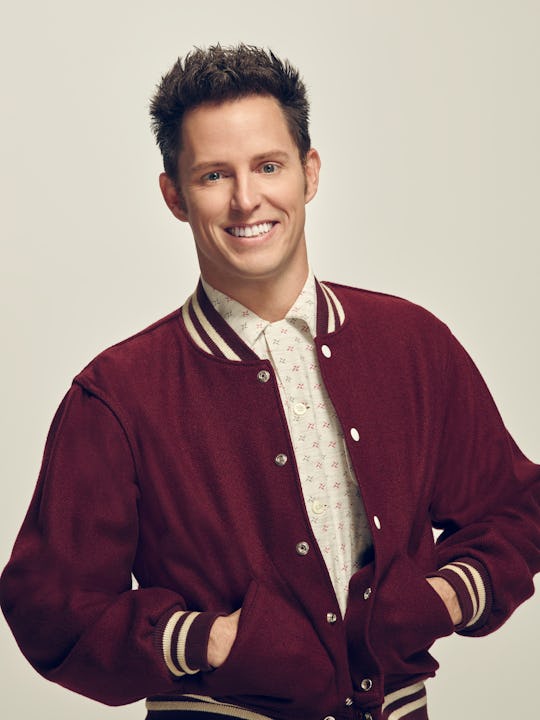 Tommy Garcia/FOX
Who Plays Sonny on 'Grease: Live?' Andrew Call Is No Stranger To Broadway
It is impossible to not get hyped about Grease Live. After all, the show hits the small screen at the end of the month, and hearing that celebs like Vanessa Hudgens (Rizzo), Aaron Tveit (Danny), and Julianne Hough (Sandy) are on the bill isn't helping things. Grease Live will also include Andrew Ball playing Sonny — and that alone should be reason enough to tune in.
If you're not a Broadway buff, it is very likely you are unfamiliar with Call. Though you know by now he will appear as the in-your-face T-Bird member on the Jan. 31 show, he has an impressive history on the Great White Way. According to Playbill Vault, Ball's Broadway career started with 2006's High Fidelity, where he took on smaller roles. From there, he has appeared in productions for Cry-Baby, Glory Days, and American Idiot. On Jan. 15, Call finished work for Rock of Ages, a production he was involved with since April 2009.
Needless to say, viewers can expect an A+ performance from Call. And like any good promoter, he is busy getting his face out there before Grease Live airs. On Saturday, Call, Tveit and Jordan Fisher (playing Doody) gave Broadway Live an exclusive tour of Warner Bros. Hollywood where the show will take place. The trio also divulged what will happen behind the scenes. For one, Tveit revealed that during commercials the cast will be sprinting from station to station doing costume changes. But that's probably something that Call is used to.
Tveit also explained that they've been rehearsing since Thanksgiving and working at the Warner Bros. location since New Year's. It's already apparent that the team is hard at work. Variety reported on Friday that viewers and the live audience — who will be seated strategically all over the set — will get to see what goes on during breaks. Meaning there is no room for error. To add to the pressure, the Grease Live cast will perform an original song called "All I Need Is an Angel." Though not much is known about this new tune, it's clear they have got a lot for which they'll need to prepare.
Despite all the pressure, it appears that Call and company are in good spirits. The Grease Live cast has been posting a generous amount of selfies and tweets about the show to social media in the upcoming days. "[Three] weeks [until] #Greaselive," Call tweeted on Jan. 10 posting a photo of Sonny's leather jacket. "The live event of the Year!! #dontmessup #themostambitiousliveeventever."
It looks as though experienced Broadway vet Call is just as excited (and probably as nervous) as everyone else about the upcoming show. Regardless, you should probably prepare yourself for an amazing show — and an amazing Sonny, no less.
Image: Tommy Garcia/Fox