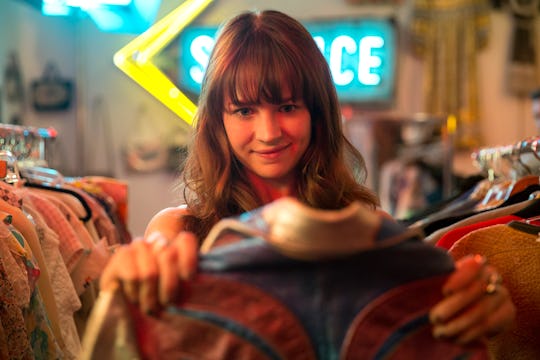 Karen Ballard/Netflix
Sophia From 'Girlboss' Is Played By A Recognizable Face
Sophia Amoruso has been in the news a lot as of late. Her clothing company, Nasty Gal, went bankrupt last year, and she's speaking openly about her recent divorce — but she's also reinvented herself. She now is also the founder of the new media company Girlboss, an offshoot of her bestselling book of the same name. In keeping with the theme, she also executive produced the new Netflix series, Girlboss. The show is loosely based off her life and the founding of Nasty Gal. So who plays Sophia on Girlboss? Britt Robertson embodies the fashion CEO.
If you think Robertson looks familiar, it's probably because she is. This lady has an extensive resume — from indie darling Dan in Real Life back in 2007 to the teen adventure The Space Between Us this year. She's no stranger to television, either: she's done it all, from guest appearances in shows like Law and Order: SVU to starring roles in hits such as The Secret Circle. In Girlboss, Robertson plays the titular character that's based on Amoruso. For the role, she considered Girlboss executive producer (and fellow badass actress) Charlize Theron as an inspiration. She told PopSugar in an interview, "She was instrumental in allowing me to be an actor and create this character, and reminding me that that is my job."
Robertson made efforts not to merely imitate Amoruso, but to make the character of Sophia her own. She also took inspiration from Amoruso's life — even her failures. "You realize, once you fall flat and you pick yourself back up again, it's okay. You will fail and you will have successes and sometimes those failures will mean more than those successes," she said in an interview with Gotham Magazine.
Girlboss creator and showrunner Kay Cannon agreed with the notion that Robertson isn't playing Amoruso per se, but a woman of Robertson's own creation. According to the same PopSugar interview, Robertson's Sophia is like Amorouso "cranked up a few notches." From her acting experience — and the explosive trailer for the show — the audience can see that Robertson has the chops to give the character a unique perspective. From the first look of the series, Sophia seems gutsy, saying phrases like, "Go ahead, underestimate me." But it's clear though, too, that the series will shed light on her vulnerabilities. Robertson seems like the perfect match to bring all aspects of Sophia's personality to the forefront.