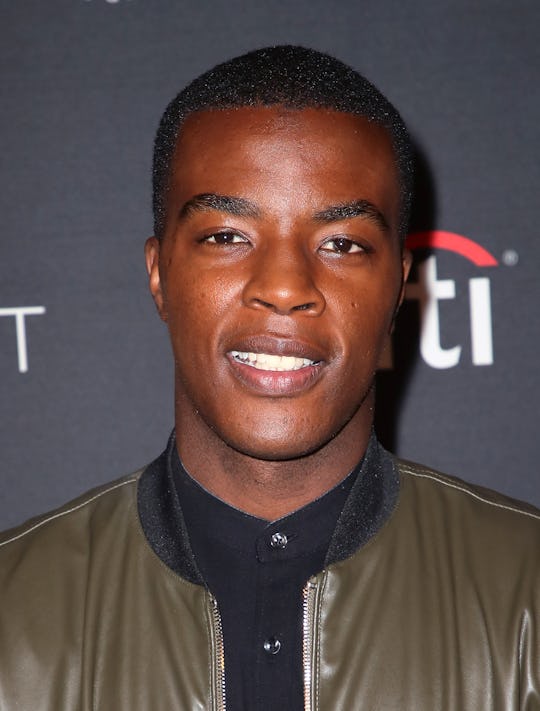 David Livingston/Getty Images Entertainment/Getty Images
Daniel Ezra On 'All American' Could Be A Breakout Star
All American is like Friday Night Lights and The O.C. had a baby and any fan of inspirational teen dramas is probably going to want to check it out. Besides Taye Diggs leading the cast, though, there are a handful of fresh faces, including the actor who plays Spencer on All American. Daniel Ezra isn't new to acting, but this is his biggest role to date.
According to his IMDB profile, he was in the TV shows Prey, Undercover, and The Missing before being cast in the series. He also has some theater experience, as he was in a 2017 West End London theater production of Twelfth Night. And although he plays an American high school football player on All American, Ezra is actually from Birmingham, United Kingdom.
He told Entertainment Tonight Canada in an interview that the director of the show took him to a Crenshaw high school so he could hear the proper accent and get it down to a T. He said that from the time he got off the plane in LA, he kept his South Central LA accent to stay in character in a way. It definitely shows his dedication to the role.
He might be from the UK, but right now LA is his home and it's clear that Ezra has fully embraced it. His first ever Instagram post is of him looking toward the Hollywood sign with the caption "Conquering…" Just like his character on All American, Ezra was in for a big culture shock when he made the move to LA, but he seems to be adapting well.
The new drama in the CW's fall lineup premieres on October 10 at 9 p.m. ET and is inspired by the life of real life NFL player Spencer Paysinger. It's unclear how much experience Ezra has with sports beyond the show itself, but he said in the same Entertainment Tonight Canada interview that he appreciates what sports can do for players and fans. "The one great thing about sports is, it brings people together," he said. "And the great thing about [All American] is it's about bringing people together, but on many different layers."
You don't have to love football to like All American. Like One Tree Hill which had basketball at its epicenter and Friday Night Lights which was about a Texas high school football team, All American is about the lives of the players. And about Spencer specifically, who leaves his school in South Central LA to attend a swanky high school in Beverly Hills. Judging by the All American trailer, he's targeted almost immediately by his new classmates and teammates because of his talent and, apparently, for his interest in the wrong girl. It seems like a show full of drama, inspiration, and moments that make you want to yell at the TV screen. So you know, just your average weeknight on the CW.
Ezra's Instagram is fairly new, so it's mostly about his upcoming role in All American, but it also shows how close he's gotten to his fellow cast mates. He was tagged in a photo with fellow cast member Michael Behling in which Behling called him his brother. On Diggs' own Instagram, there's a video of him freestyle rapping with them both and it's kind of amazing.
After spending a few years in theater and on TV shows in the UK, it's obvious that Ezra worked hard to get here and this is kind of his big break. It's going to be interesting to see how the football drama allows his talents to shine through.