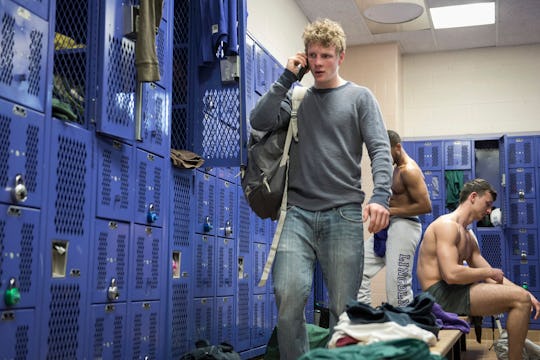 JoJo Whilden/Netflix
Who Plays Steve On 'The OA'? Patrick Gibson Is An Up-And-Coming Actor
This year Netflix is diving head first into the sci-fi realm. Earlier this year they released the first season of their hit '80s sci-fi drama Stranger Things that's now been nominated for two Golden Globes. Now Netflix is gearing up to release another mystery drama called The OA. The story follows the mysterious reappearance of Prairie Johnson (Brit Marling) who went missing seven years prior to when the series picks up. Prairie, who was previously blind, is now in her 20s and can unexplainably see. She also ends up befriending a guy named Steve. So who plays Steve on The OA? He's the up-and-coming actor Patrick Gibson.
While Gibson's resume may not be long, it is pretty impressive. Prior to working on The OA, Gibson has appeared in various movies, including Their Finest, Property of the State, Cherry Tree, Gold, and the award-winning film What Richard Did. Gibson has also appeared in a multitude of different TV shows and mini-series, such as The Passing Bells, Neverland, The Importance of Being Whatever, Primeval, and The Tudors, to name a few. Gibson's role as Steve in The OA is one of his first big roles, but it definitely won't be his last. In fact, he already has plenty more roles lined up for next year, believe it or not.
After the sci-fi drama, Gibson will be appearing in Starz's new period drama, The White Princess, based on Philippa Gregory's novel of the same name. Gibson will be playing "The Boy" in the story of Elizabeth of York and her marriage to the Lancaster victor, Henry VII. The actor is also currently filming a new TV mini-series called Guerrilla that follows a pair of activists in 1970s London, set out to free a political prisoner and start a resistance movement. Gibson will play the role of Connor, and the series will also star Idris Elba. It's clear The OA is only the beginning for Gibson and there's no doubt fans will be seeing a lot more of him in the very the future.
Besides Gibson and Marling, The OA will also star Jason Isaacs, Scott Wilson, and Emory Cohen. And don't worry about not knowing a lot about the show before diving right into it. That's part of the fun and I'm sure the main reason why Netflix has kept this project so secretive throughout the months. This will definitely be a show you won't want to miss.
The OA is available for streaming on Netflix starting Friday, Dec. 16.