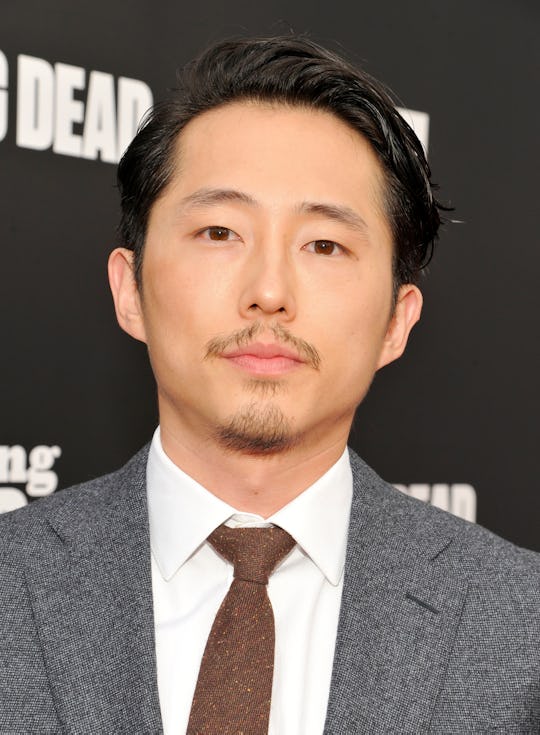 John Sciulli/Getty Images Entertainment/Getty Images
'Trollhunters' Steve Is From 'Walking Dead' Fame
On Trollhunters, you've got your hero, sidekick, troll villains, troll good guys, and of course, the school bully, Steve. But since you know there's more to him than just picking on people, it's totally worth knowing who plays Steve on Trollhunters. Because he's definitely a familiar face. Steven Yeun, known to most fans as Glenn from The Walking Dead, is used to fighting with zombies instead of trolls, but the world of animation is a whole different atmosphere, and while his most notable role hasn't been about voiceover work, he can appreciate the benefits of shooting the new Netflix animated series.
Fans of The Walking Dead should know by now that (spoiler alert) Glenn was killed off in the Season 7 premiere, at the merciless hands of the baddest bad guy the show has introduced yet, Negan, with his trusty barbed wire-wrapped bat, Lucille. I mean, if you name your chosen instrument of murder, you're already a psycho-killer, but to see Yeun's death on The Walking Dead is to fully appreciate the horror of the show's new big bad. But now, as Steve on Trollhunters, the actor has taken on a whole other kind of role. But it's one that he says isn't unlike that of his previous part in the AMC zombie apocalypse series.
At a roundtable interview at the New York Comic Con, Yeun equated the messages of his former series to Trollhunters. "In some weird, weird way, the show that I work on, The Walking Dead… it's become family programming, even though technically shouldn't be," the actor told reporters. "Probably because it's hitting on ideas and things that pertain to everyone. And that show doesn't talk down to kids, because it's not made for kids. And kids today are a little bit smarter. But what's great about Trollhunters is that it's the same way. They don't talk down to the kids. And so everybody is going to be able to turn it on and watch it."
Although Yeun is known to most as Glenn from The Walking Dead, the actor got his start doing voice work for video games and this year, he took on the role of Keith on the animated series, Voltron. But where voiceover work isn't concerned, Yeun is set to appear in the 2017 movie Okja, starring Jake Gyllenhaal and Lily Collins. Since The Walking Dead was part of Yeun's life for more than six years, so it's probably to be expected that he's still super close with his castmates from the series. And despite being killed off the show, it's pretty adorable.
Editor's Note: The Instagram post has since been deleted.
Hopefully, fans will be able to welcome Yeun back into their hearts as he's brought back to life on Trollhunters. He might be playing a character very unlike Glenn, who was basically the post-apocalyptic America's Sweetheart, but as Yeun said during the Comic Con roundtable, Steve on Trollhunters is a bully, yes, but "he's layered. He has a journey, so I'm not gonna tell you what happens."
Fans of The Walking Dead will always mourn Glenn, one of the show's OGs, but Yeun's voice is bringing to life a whole new character on Trollhunters that may just make a nice consolation prize for now.