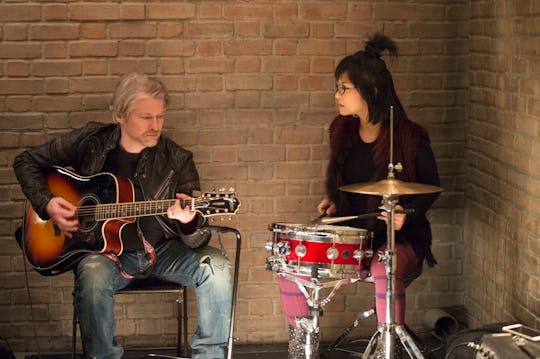 Neil Jacobs/Netflix
Who Plays Stevie In The 'Gilmore Girls' Revival'? Ezra Dewey Will Play One Of Lane's Kids
When fans last left the Gilmore Girls nine years ago at the end of Season 7, there were several babies running around town. Now that the show is coming back for a revival, viewers will get a chance to see what those kids look like all grown up. So who plays Lane's son Stevie in the Gilmore Girls revival? Child actor Ezra Dewey will be playing one of Lane Kim's two twin boys, who (believe it or not) are now nine years old. Life goes by so fast, doesn't it?
According to his IMDB page, Dewey hasn't been around in Hollywood for very long. This of course makes sense, considering he's just a child at the moment. While some actors begin almost right out of the womb, it's normal for others to wait until they can at least walk and talk on their own. So apart from a few small parts in TV shows and lots of modeling jobs, this is Dewey's first big gig. He and his TV brother, played by Lucas Jaye, will apparently only appear in one of the four episodes, while their TV mom Lane, played by Keiko Agena, will be in all four. So at the very least fans will be getting lots of Lane, who is low key my favorite character in this series, by the way.
From the looks of Dewey's Instagram page, he's been in basically every print ad for children's clothing ever, most of which involve him jumping for joy for whatever reason. And it makes sense, considering I can't remember the last time I saw a child this freakin' adorable. He does have some acting chops under his belt as well, however. In addition to being one part of the next generation of Kims on Gilmore Girls, he also had a recurring guest spot on Criminal Minds: Beyond Borders. If he's looking for world domination, he's well on his way. Adorably.
It looks like he and his TV brother, Jaye, have been getting along like peas and carrots, at least if their social media accountss are any indication. This should make for some downright heartwarming scenes in the Gilmore reboot. Knowing what she was like as a mom, my biggest question now is, what is Mrs. Kim like as a grandma?