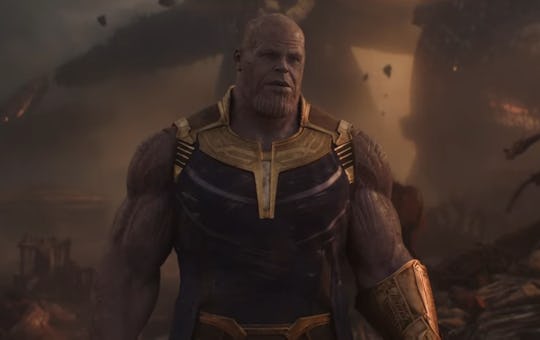 Marvel/YouTube
The Actor Playing Thanos In 'Avengers: Infinity War' Is Nothing Like His Villainous Character
The movie that's been 10 years in the making is finally here. Avengers: Infinity War is bringing together almost every superhero in the Marvel Cinematic Universe to face off against one major threat: Thanos. Being the major villain of the film, it's no surprise that people want to know who plays Thanos in Avengers: Infinity War, but the actor looks so incredibly different you probably won't recognize him at first.
Oscar nominee Josh Brolin will play the diabolical Thanos, reprising his role from Guardians of the Galaxy and Avengers: Age of Ultron. If you don't recall seeing Thanos during Age of Ultron, that unfortunately means you probably didn't stick around for the classic post-credits Marvel scene found at the end of the movie. It was in that moment that Thanos put on his now infamous glove that will hold the infinity stones he plans on collecting.
While Thanos is obviously a big deal in the MCU, Brolin himself is also a household name. The 50-year-old actor has a film and TV career that spans decades, which includes iconic roles in the films The Goonies, No Country for Old Men, W., Inherent Vice, and Milk. It was his role as Dan White in Milk that earned him his Oscar nomination.
You may also recognize Brolin from his work in the movies Into the Blue, American Gangster, Jonah Hex, True Grit, Men in Black 3, Gangster Squad, or Sin City: A Dame to Kill For. And that's only just a few of the many movies he's appeared in over the years. Following Infinity War, you can next catch Brolin on the big screen in yet another Marvel movie, though he won't be playing Thanos. Instead, he'll tackle the role of Nathan Summers, also known as Cable, in Deadpool 2. While he's a different character, he's still the villain. He'll also be in George and Tammy, which doesn't have a release date yet, and Sicario: Day of the Soldado, which is due out in June.
Besides his work on the big screen, Brolin also had recurring roles on TV series in the '80s and '90s that you may recognize him from. He played Johnny Betts on Private Eye, James Butler Hickok on The Young Riders, and Jack Passion on Winnetka Road. A little more recently, he also had a starring role on the short lived NBC drama, Mister Sterling, as the titular character, Bill Sterling. After that, Brolin appears to have left TV altogether, setting his sights on film, which was obviously the right move for him.
As for his personal life, Brolin was married to actress Alice Adair for six years and they had two children together, Eden and Trevor. In 2004, Brolin married Oscar nominee Diane Lane and they remained together for almost a decade before they split in 2013. That same year Brolin checked himself into rehab after being arrested for public intoxication and being involved in other public altercations. Thankfully, since leaving rehab, Brolin has been doing incredibly well, and got married to Kathryn Boyd in 2016.
Although Brolin doesn't have a Twitter account, he's quite active on Instagram, sharing photos of his wife and promoting her company Midheaven Denim, congratulating his daughter Eden for her work on shows like Beyond, and sharing funny videos and pictures of himself. It's clear Brolin has a great sense of humor and is more chill than his character, Thanos. Brolin also occasionally uses his platform to support causes like the March for Our Lives and celebrate International Women's Day.
You can catch Brolin as Thanos in Avengers: Infinity War, which is out in theaters on Friday, April 27.
Check out Romper's new video series, Romper's Doula Diaries:
Watch full episodes of Romper's Doula Diaries on Facebook Watch.