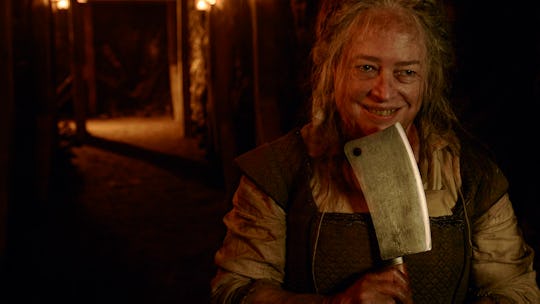 Frank Ockenfels/FX
Who Plays The Real Butcher On 'AHS: Roanoke'? Susan Berger Writes Children's Books
When American Horror Story: Roanoke pulled back the curtain on its show within a show, everything changed. Suddenly the stakes were a lot higher than they had been previously. All of the characters are now trapped in a farmhouse of horrors that's teeming with murderous spirits, vengeful ex-cast members, and nearby cannibalistic hillbillies. None of them are as pleasant as their sanitized TV equivalents from My Roanoke Nightmare. And while it may not seem possible for the Real Butcher to be any more terrifying than Kathy Bates' version of her, just one quick scene proved she means business. But who plays the Real Butcher on AHS: Roanoke?
One interesting thing about the "real" versions of the characters is that there is something grittier and darker about them. They aren't as finely sketched out and sympathetic as they were in the reenactments. They aren't given dialogue or backstory. They aren't even played by immediately recognizable actors from the AHS wheelhouse. All of that allows for the audience to be submerged in the world of the show a little bit deeper. When the actor isn't as familiar a face, it doesn't pull the viewer out of what's happening quite as much. It makes things feel more real. So don't worry if you didn't recognize Susan Berger as the Real Butcher; that's the point.
Berger has been acting since the '70s, though the majority of her roles appear to have been small television parts and some voice acting. IMDB credits her as appearing in the rest of AHS: Roanoke as the Butcher, which would make this her longest-running role outside of a part in the web series FML. According to her Twitter bio, she also writes children's books. Just let that sink in for a minute: the Butcher writes children's books. Amazing.
Berger didn't say a word in her first appearance as the Butcher, but she didn't need to. Visually Berger's Butcher was very different from Bates' interpretation of the character (especially because Bates was playing Agnes playing the Butcher): her clothing and hair were more elaborate, but she was even grimier and more imposing in her silence. She didn't have any words to offer, and she wasn't interested in Agnes' adulation. She simply did what you'd expect a violent puritanical ghost called the Butcher to do: she killed Agnes with a single stroke of her blade.
Not having any preconceived ideas about Berger as an actor allowed the Butcher to stand totally on her own, making her (and the threat she posed) all the more real.