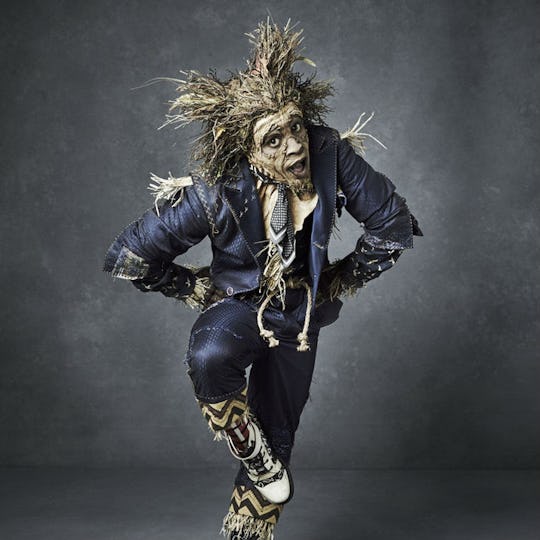 Who Plays The Scarecrow In NBC's 'The Wiz Live!'? You've Definitely See Elijah Kelley Before
Slip on your ruby slippers and ease on over to your TV, because The Wiz Live! premiers tonight at 8 p.m. EST. NBC's live revival of Charlie Smalls's 1975 musical boasts an all-star ensemble of familiar faces (um, hello Mary J. Blige!) as well as some lesser-known names that you may find yourself googling throughout the show. One question viewers are bound to ask is who plays the Scarecrow.
The original cast of the movie adaptation of The Wiz featured an equally impressive cast, including Michael Jackson who danced down the yellow brick road as the Scarecrow. So who will be filling The King of Pop's straw-stuffed shoes? NBC's show will feature Elijah Kelley as the Scarecrow, and he is more than fit for the part.
Though you make not recognize Kelley in his Scarecrow get up, a quick search of the 29-yerar-old actor sans stage makeup will have you saying, "Oh, he's that guy."
Kelley began acting in the late '90s and early 2000s with small roles on The Shield, Everybody Hates Chris, and Numb3rs. His big debut, however, came in 2007 through another Broadway revival — Hairspray. In the movie musical, Kelley took on the role of Seaweed, the singing and dancing love interest of Amanda Bynes's Penny. And in a cast of A-listers, Kelley was the one who made audiences take note. I mean, with those pipes, how could he not?
Kelley continued picking up film roles, like Red Tails and Lee Daniels' The Butler. He even lent his vocal chords to the character of Sunny is the animated film Strange Magic, which included a magical scene of serenading.
Yet despite his impressive singing abilities, Kelley has never taken to the Broadway stage or acted in a live performance. But his role as Scarecrow in The Wiz Live! may change all of that. Despite being surrounded by well-known singers and songwriters, Kelley's past experience proves he'll be able to keep up with his A-list co-stars. And, possibly, shine even brighter.
Images: NBC Universal Media