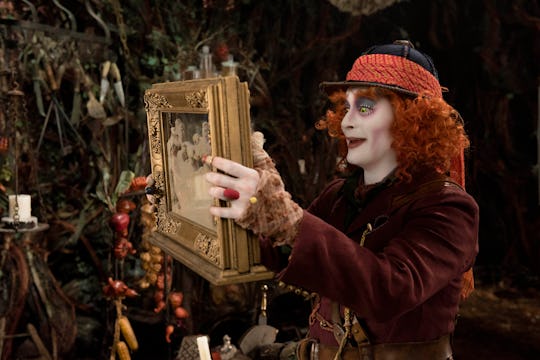 Peter Mountain/Disney Enterprises
Who Plays The Young Hatter In 'Alice Through The Looking Glass'? The Kid Actor Is Adorable
Moviegoers were expecting to see the Mad Hatter in Alice Through the Looking Glass. They even knew that time travel would feature heavily in the plot. But it was still surprising when Alice traveled a bit further back in time than expected, and met Johnny Depp's character as a child. So who plays the young hatter in Alice Through the Looking Glass? It's Louis Ashbourne Serkis, and if his last name sounds familiar, that's because his dad, Andy Serkis, has played basically every performance-capture character in the past 15 years, from Gollum in the Lord of the Rings franchise, to Cesar in Planet of the Apes, to Supreme Leader Snoke in The Force Awakens.
This was the first film role for the young Serkis, unless you count an uncredited and later cut role in one of the Hobbit movies. Not since A Nightmare On Elm Street has an actor gone from being unknown to being a young Johnny Depp overnight. Serkis also lends his voice to the title role in Noddy, Toyland Detective, the latest TV reboot of the beloved British children's character created by Enid Blyton. He also appeared in a 2014 episode of the British police drama Endeavour.
Serkis hasn't done any press leading up to the premiere of Alice Through the Looking Glass, perhaps in an effort to keep some major plot points secret. His performance will no doubt land him more than a few interviews once fans become familiar with him, however. And this isn't the last fans will see, or rather hear, of Serkis. He'll be voicing the character Bhoo in 2018's live-action adaptation of Rudyard Kipling's The Jungle Book. No, not the Disney movie that premiered last month; another one.
The Jungle Book was published in 1894, and is now in the public domain, meaning that nobody can own the rights to it. So even though Disney's movie was more of a live-action update to its 1967 animated film, 2018's Jungle Book, produced by Warner Brothers, is nice and legal. The film will be Andy Serkis' major directing debut, and he'll also play the bear Baloo in the film. The 2018 film is no less star-studded than 2o16's; Cate Blanchett, Christian Bale, Benedict Cumberbatch, and Freida Pinto also appear. It seems like Louis is off to a great start in his career, no doubt helped along by his famous dad, but certainly due in no small part to his acting skills (and adorable mug). We'll surely be seeing more of him soon.