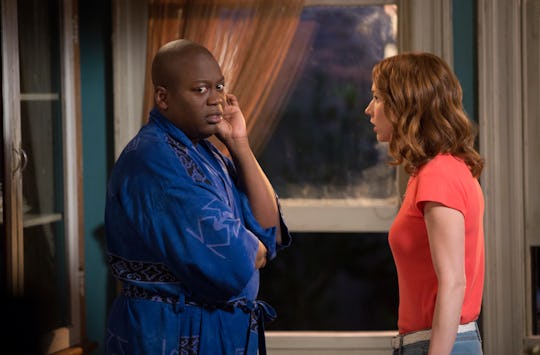 Eric Liebowitz/Netflix
Who Plays Titus' Wife on 'Unbreakable Kimmy Schmidt'? Pernell Walker Is Talented
Among the Season 1 cliffhanger bombshells on Unbreakable Kimmy Schmidt is the appearance of Titus Andromedon's wife, Vonda, who finds her estranged husband thanks to his new, "Peeno Noir"-triggered YouTube fame. It's rather shocking since we didn't know too much about Titus' past. In the Season 2 premiere, Vonda is back, stirring up more drama for Titus' current life. So, who plays Titus' wife on Unbreakable Kimmy Schmidt? Meet Vonda, played by Pernell Walker, your new favorite ex-wife. She returns to officially divorce Titus (née, Ronald Wilkerson), whom she believed to be dead, after he abandoned her at their own wedding reception to escape his heterosexual Mississippi life.
Pernell Walker has had a very impress career. She has done episodes of Vinyl, Boardwalk Empire, The Knick, and The Leftovers, and she's snagged roles in Lee Daniels' The Butler and the critically acclaimed indie film Pariah. She's also got some stage credits as a cast member in the Classical Theater of Harlem's Off-Broadway production of Seed, written by one of the writers of Empire.
On Kimmy Schmidt, Walker represents everything Titus was running from when he skipped out on Vonda — his stifled, oppressive, religious Mississippi roots, which he trades in to live more authentically as an out, gay performer in New York. But his past life comes back to haunt him, since he didn't leave it behind honestly, and Vonda reminds Kimmy that her roommate and bestie is actually a serial runner when problems arise.
Ultimately, thanks to a lesson in moral relativism, Kimmy gets through to Titus' younger self, and helps him show up for Vonda to put his past behind him. Kimmy gets her reassurance that Titus won't abandon their friendship, while learning that people are complicated, and sometimes what's right for others won't always seem like what's right to her.