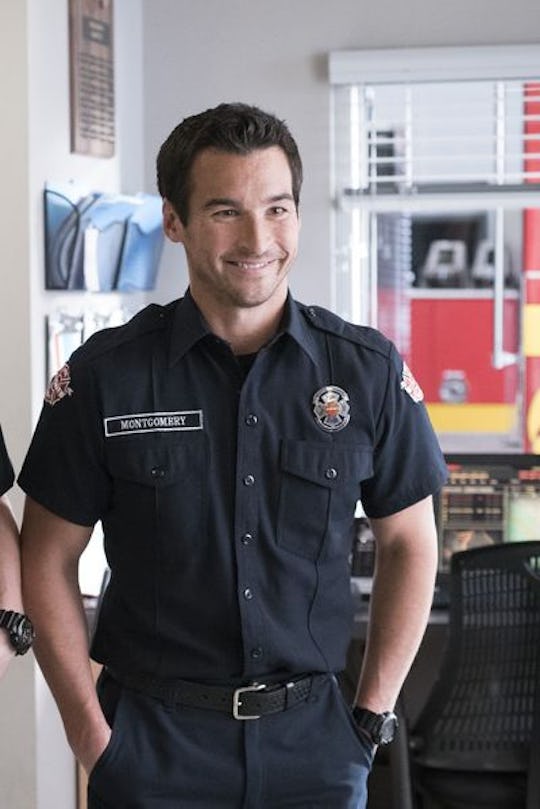 Kelsey McNeal/ABC
Travis Montgomery Is Your New Favorite Character Of 'Station 19'
All the hot guys live in Seattle, Washington. Or, at least, that's what Grey's Anatomy and Station 19 will have you believe. The new Grey's spin-off Station 19 has an incredible cast of characters and they're all good looking. One of the very attractive guys is Travis Montgomery, but who plays Travis on Station 19 and is he just as dreamy in real life? Jay Hayden is tackling the role of a firefighter and of course he's just as cute off-screen.
If you're an avid Shondaland fan then Hayden should look familiar to you since he played Danny Yoon on The Catch. Shonda Rhimes is known for keeping people around in the Shondaland family so it shouldn't be surprising that after The Catch was cancelled after its second season he got a new role in yet another one of her brand new shows. But besides appearing on The Catch, Hayden's resume is actually quite long.
While attending the University of Vermont he decided to take a break to give acting a try. Hayden told Kore Asian Media that after getting a part in a one-act play he realized acting was what he really wanted to do with his life. Following the advice of his parents, Hayden decided to go back to school to major in theater and in 2004 he moved to Los Angeles.
Although he struggled at first, Hayden's now been acting for over a decade, both on television and in film. He got his first recurring role on a series called The Talent Show and then nabbed a starring role on the Hulu series Battleground. After Battleground was cancelled, Hayden made appearances on a number of TV shows, including Criminal Minds, Bad Samaritans, Mixology, Stalker, and One & Done. Most recently you may have seen him on the Netflix reboot of One Day at a Time as Ben.
Hayden has also had recurring roles on SEAL Team and Crazy Ex-Girlfriend before being cast in Station 19. This year you can also see Hayden in the film 001LithiumX.
Besides his work as an actor, Hayden is pretty open about his life and story. For instance, as a half-Korean, half-Irish American, Hayden has opened up about what it feels like to be "ethnically ambiguous." In the interview with Kore, Hayden said, "Korean people don't think that I am Korean. White people don't think that I am white. I'm other." Hayden is also more than just an actor. He also co-owns a design build company called David Vincent, which renovates offices, homes, and restaurants. Hayden told Emmys.com his side job is what keeps him grounded.
Also, sorry to disappoint ladies, but Hayden is off the market. He's married to Nikki Danielle Hayden and the couple have a son together. They are totally adorable (as is their son!) and they've been together for 15 years.
With two jobs and a wife and kid at home, Hayden definitely stays busy, but it looks like he still finds time to go out and have fun with his family and friends. This includes capturing his wife singing karaoke at a bar after she was a few drinks in and "home schooling" his son, which really just means forming a rock band with him. I think they sound pretty good.
Obviously Hayden is a down to earth and fun guy, which makes him pretty similar to his character, Travis. PopSugar describes Travis as "an openly gay firefighter who is well-liked, funny, fun, and always plays by the rules." You can officially meet Travis and the rest of the cast of Station 19 when the series premieres on Thursday, March 22 at 9 p.m. EST right after Grey's Anatomy.
Check out Romper's new video series, Romper's Doula Diaries:
Watch full episodes of Romper's Doula Diaries on Facebook Watch.