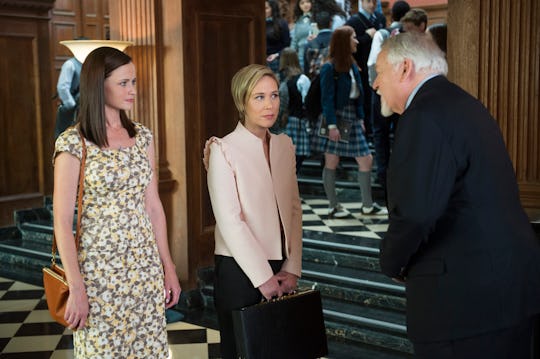 Neil Jacobs/Netflix
Who Plays Tristan On The 'Gilmore Girls' Revival? Anton Narinskiy Takes On The Role
While it's true that a lot of familiar faces managed to return for the Gilmore Girls revival, there was one character who showed up that looked, well, not so familiar. (Warning: This post contains spoilers from Episode 2 of the Gilmore Girls revival.) I'm referring, of course, to Tristan, who made a brief and surprising cameo in the four-part series and he wasn't in the form of the previous portrayer, Chad Michael Murray. So who plays Tristan in the Gilmore Girls revival? The actor's name is Anton Narinskiy and this definitely isn't the first time he's appeared on the small screen. Far from it, in fact.
Aside from this little cameo, the actor has also appeared in shows like Jane the Virgin, Awkward, and The Mysteries of Laura. But major soap opera fans will probably know him best for his role as Terry on Days of Our Lives. But whether or not you've seen him before, this is definitely going to draw a lot of attention to Narinskiy's name. After all, Tristan was a very memorable character. In fact, there was a time when I was secretly rooting for Rory and him to possibly make it work before he left the show for good. (Hey, she made him be less of a jerk, OK?)
Well, sorta anyway. But the point is that I did not expect to see him show up in any form during the revival, so when Paris pointed him out at Chilton, I (much like her) freaked out accordingly. Honestly, I had no idea that Paris still felt so strongly about Tristan after all of these years, but the mere sight of him sent her into a tailspin of emotions. Granted, it was one of my favorite scenes in the episode to watch Paris spiral in an oh-so-Paris way, but it was surprising that he still had such a sway over her heart.
It's unclear whether or not he'll pop up throughout the rest of the episodes, but I kinda doubt it. This felt like just a brief nod to a long ago character. But if it leads to more amazing Paris moments like this then I say bring it on. Tristan doesn't know what he's missing.