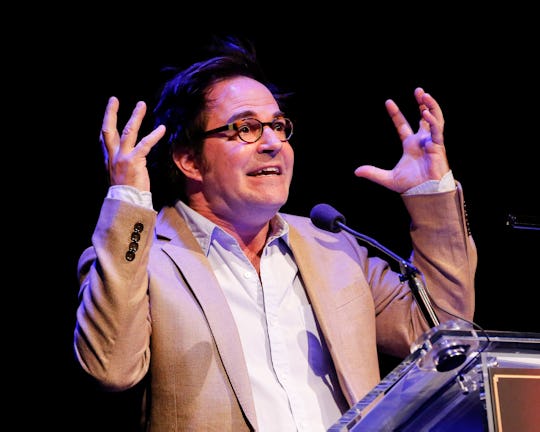 Rich Polk/Getty Images Entertainment/Getty Images
Vice Principal Nero From 'A Series Of Unfortunate Events' May Look Very Familiar
A Series of Unfortunate Events makes itself clear right in the title (and the theme song and the narration, just in case you didn't get the message): Violet, Klaus, and Sunny Baudelaire will never be without obstacles, which often come in the form of meddling adults who won't give the kids a break. The unpleasant man in charge of their new school is yet another antagonist who fits that mold. But who plays Vice Principal Nero on ASOUE?
Vice Principal Nero of the Prufrock Preparatory School considers himself a violin virtuoso. As a result, he focuses all his attention on his subpar playing, which seems like a reference to the historical Emperor Nero, who supposedly played the fiddle while Rome burned around him. The Nero of ASOUE forces his students to attend lengthy mandatory recitals despite the fact that he has no talent at all. Narcissistic and deluded about his musical skills, Nero is the latest in a long line of unhelpful adults making life miserable for the Baudelaires.
Roger Bart brings Nero to life, and he certainly plays up all those qualities. Executive producer Barry Sonnenfeld praised Bart to TV Guide, calling him "a brilliant Broadway actor." However, Sonnenfeld's description of Nero took a turn for the chilling: "he almost makes Olaf seem like a nice guy — sane."
Yikes.
Like many of the adult actors who have joined the cast of ASOUE, Bart is a fairly recognizable figure thanks to a lengthy career that has spanned theater, television, and movies. He's popped up in countless TV shows, from various versions of Law & Order (including the original and Special Victims Unit) to several cities under the CSI umbrella. He's appeared in episodes of 30 Rock, How I Met Your Mother, Episodes, and Modern Family. With over twenty credits to his name just in TV alone, it's almost a guarantee you've seen his face before.
Bart's roles in film and on stage are similarly prolific. He won both a Tony Award and a Drama Desk Award in 1999 for his portrayal of Snoopy in You're a Good Man, Charlie Brown, and that wasn't the end of the awards love. He was nominated again for both awards in 2001 for The Producers, in which he played Carmen Ghia (a role he would return to for the film adaptation). And, fun fact, Bart also provided the singing voice for the titular hero of Disney's Hercules.
Additionally, Bart actually tackled multiple roles in The Producers, according to Playbill; after auditioning for playwright character Franz Liebkind and landing common-law assistant Carmen Ghia, he also went on to play lead part Leo Bloom. At the same time, he was appearing on Desperate Housewives as a seemingly mild-mannered character who had hidden, terrifying depths. Of the character, Bart said:
One of the reasons I was hired is that, for the few people who knew me [among TV viewers], the last thing you'd expect is for me to turn horrifying. For the public that doesn't know me, I don't think I look like a menacing, scary person. So it's sort of nice to think that the neighborhood pharmacist who wears the big grin and is sort of affable would turn into such a lunatic. Based on what I've read on the internet — I don't go there anymore; it scares me — if they wanted to make America loathe me, they succeeded.
While playing someone menacing might have gone against type for Bart in 2005, it seems he's been successful enough at disappearing into different types of characters. Audiences will have no trouble buying him as Nero, who doesn't bother hiding his creepier qualities — he displays them all in plain sight.
Check out Romper's new video series, Romper's Doula Diaries:
Watch full episodes of Romper's Doula Diaries on Facebook Watch.