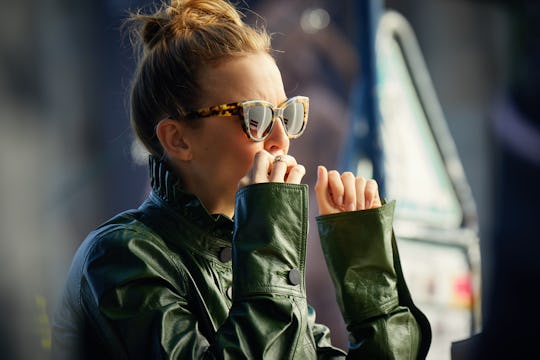 BBC AMERICA
Here's Why You May Recognize The Actress Playing Villanelle On 'Killing Eve'
Killing Eve is BBC America's newest series and it's already set to be a hit. The thriller follows two women — Eve, a desk jockey at M15 who wishes for a more exciting life, and Villanelle, the assassin Eve's decided to track down. While many have been discussing Grey's Anatomy alum Sandra Oh taking on the role of Eve, many may also be wondering who plays Villanelle on Killing Eve? British actress Jodie Comer is tackling the role perfectly.
At 25 years old, Comer has already had a number of great small screen parts. She first got a starring role on the BBC One series Justice as Sharna Mulhearne and then a number of smaller roles on shows like Silent Witness, Coming Up, Law & Order: UK, and Remember Me. However, it was her lead part on the hit British dramedy series, My Mad Fat Diary, that really launched Comer into stardom. In the series, which is based on Rae Earl's memoir of the same, Comer played Rae's best friend, Chloe Gemell.
Unfortunately, the series was canceled after three seasons, but Comer quickly bounced back and joined the BBC miniseries, Thirteen and Rillington Place, before making her way stateside for the Starz miniseries, The White Princess, a sequel to the network's hit series, The White Queen. Comer starred as Princess Elizabeth and she, along with the series, received wide critical acclaim.
Following The White Princess, Comer then appeared in the film England is Mine before getting a major role on the BBC series Doctor Foster as Kate Parks. Comer left the show during its second season when her character decided to leave her husband, Simon, after he had an affair with his ex. Although fans were excited for the drama, they were sad to see Comer go. Thankfully, they didn't have to wait to long to see her back on their TV screens again.
In Killing Eve, Comer takes on a much different role as Villanelle. As an assassin, all Villanelle does is kill people. She's described as having no conscience in her character bio and she's willing to kill whoever she's told to so she can continue to live the life of luxury she's become accustomed to. Prior to becoming an assassin, she had nothing, leaving her past a bit of a mystery, at least for now. She's doesn't really have any personal relationships other than the one she has with her handler, Konstantin, who she likes to push the boundaries with.
Besides that, Villanelle is a bit of a question mark, which also makes her quite terrifying. She can apparently change her outer appearance as well as her personality at the drop of a hat to fit whatever kind of person she needs to be to kill her target. In summary, she definitely shouldn't be trusted and it'll be difficult for anyone to outsmart her, including Eve.
Thankfully, unlike the character she's playing, Comer doesn't appear to be anything like that in real life. Based on her social media, Comer loves to spend her off days with her friends and traveling. She's also the biggest supporter of her friend Katarina Johnson-Thompson, a heptathlete, who's currently competing at the Commonwealth Games.
Overall, Comer seems like a down to Earth person who just likes to have fun with her friends and is definitely not an assassin, even though she plays one very well. You can see Comer as Villanelle when Killing Eve premieres on Sunday, April 8 at 8 p.m. EST on BBC America.
Check out Romper's new video series, Romper's Doula Diaries:
Watch full episodes of Romper's Doula Diaries on Facebook Watch.