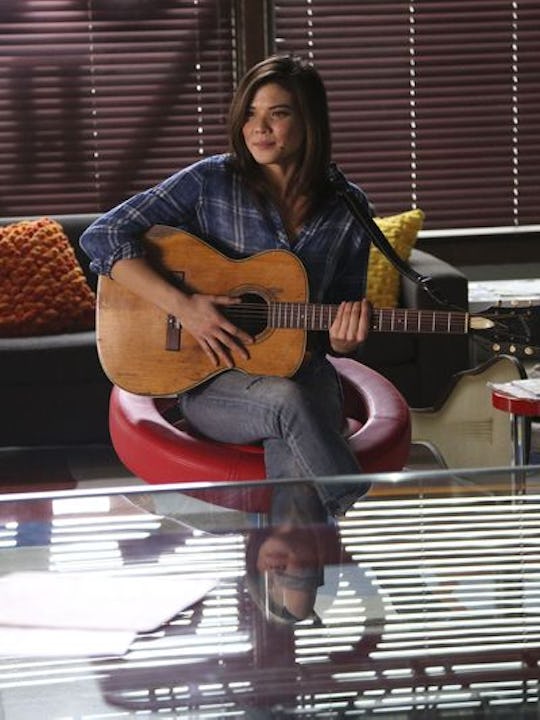 Mark LevineA/BC
Who Plays Vita Martin On 'Nashville'? Jeananne Goossen Is Shaking Things Up
Now that Rayna James and Deacon Claybourne's cheery nuptials are over, Nashville is back to the soapy strife we've come to love. Wednesday's episode brings us to one such source of drama with the introduction of Vita Martin, a new singer who has descended upon The Beverly. Whether you like or her not, you might be wondering who plays Vita Martin on Nashville. If she looks familiar, it's because she's no stranger to primetime dramas.
Vita Martin is played by Jeananne Goossen, a Canadian actress with a long list of credits on her resume. In 2007, Goossen starred in the ABC Family show Falcon Beach as Courtney True. She starred in Wild Roses as Ricky in 2009. She's also been in shows like NCIS, CSI: NY, and the short-lived Alcatraz. From 2014 to 2015, Goossen played Dr. Krista Bell-Hart on NBC's The Night Shift. Clearly, this is not her first rodeo.
Goossen was also able to show off her stunt background on The Walking Dead recently, which featured two simultaneous female-helmed fight scenes. Goossen received high praise from fans (and an accidental black eye), though sadly, her turn on TWD was cut short: she took a bullet in the end.
The Canadian-born actress probably won't be needing her fight skills to play Vita on Nashville. Luckily, she also boasts some killer vocals in real life, which we'll get to see her show off on the show. Here's a sneak peek at the pipes she's working with.
Hopefully her entrance onto Nashville is seamless, although very few are. I'm betting since Deacon's wizened AA friend (Frankie) is the harbinger of drama, that there might be some issue with Vita's past that Frankie doesn't like. Either way, we know she gets at least one tune out on the show, because she already has a song on the Nashville soundtrack!