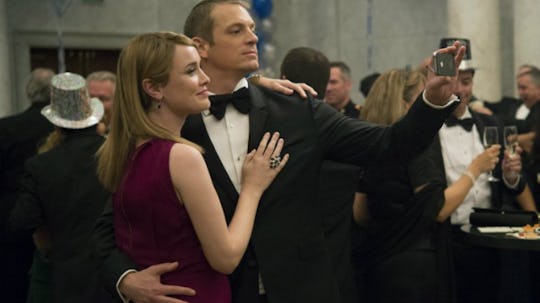 Netflix
Who Plays Will Conway's Wife On 'House of Cards'? Dominique McElligott Wants To Be The Next First Lady
Whenever the real presidential election gets too depressing, thank goodness we can retreat into the one on House Of Cards. In the newly-dropped Season 4 of the hit Netflix show, Kevin Spacey's conniving Frank Underwood battles for reelection against a young, social-media savvy Republican named Will Conway, played by Joel Kinnaman. If Claire Underwood (Robin Wright Penn) is any example, House of Cards certainly does right by the wives of its presidential candidates. So who plays Will Conway's wife on House of Cards?
Hannah Conway is played by Irish actress Dominique McElligott, and both the actress and the character are a bit mysterious. McElligott doesn't have a social media presence, and she's mostly known for independent movies, like Moon, where she played the wife of Sam Rockwell. In recent years, she's graced TV screens on a pair of period shows, ABC's The Astronaut Wives Club, where she played the (surprise!) wife of an astronaut during the height of the space race, and the AMC series Hell on Wheels, where she played a widow whose husband worked on the transcontinental railroad.
So now she's playing... another character defined by her wife status. But this is House of Cards, so I'm hoping Hannah Conway has some tricks up her sleeve. So far, she's portrayed as a bit of a perfect woman. She and her husband are warm and open, with an adorable family and a beautiful bathroom in which they like to have morning quickies. Plus, she has a British accent! How much more perfect can you get?
But we'll see what happens as Frank and Claire try to take the Conways down heading into the fifth season, and how the Conways manage to fight back. At the moment, it doesn't look like much of a contest.
If you've already binge-watched the entirety of Season 4, the good news is that the show has been officially picked up for Season 5, albeit with a different showrunner. The bad news is that you'll have to wait until 2017.