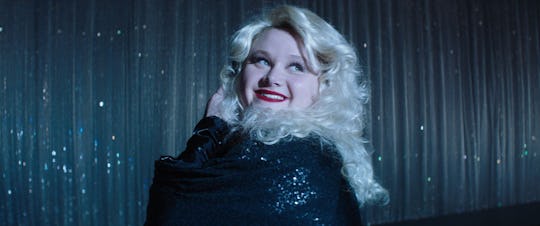 Netflix
'Dumplin'' Stars Jennifer Aniston, But Who Is The Actress Playing Her Daughter?
I don't know about you, but if I was an up and coming actress and my first big role was alongside a few Hollywood legends, I'd probably lose my cool entirely. How do you act normal around, say, Dolly Parton? When it comes to dream co-stars, the actress who plays Willowdean in Dumplin' has definitely hit the jackpot. The upcoming musical comedy, which premieres on Netflix Dec. 7, depicts a plus-size teenage girl who chooses to enter a pageant mostly to spite her former pageant queen mother, played by Jennifer Aniston. Yup, dream co-star right there.
This role sees a sort-of return to TV for Aniston ahead of her forthcoming series with Reese Witherspoon, The Morning Show, for Apple. It's also the first of Aniston's upcoming Netflix projects, which also includes comedy Murder Mystery with former co-star Adam Sandler and First Ladies with comedian Tig Notaro. But instead of waxing poetic about Aniston, let's learn more about her on-screen daughter.
Danielle Macdonald is actually a 27-year-old woman, in the ancient tradition of Hollywood casting adults as teenagers. Another interesting fact about her? Macdonald is Australian. She came to the U.S. at the age of 18 to pursue a career as an actress, like so many before her. And she's doing pretty well, I must say.
Her first role was as a cashier in The Thief, a short film directed by Academy Award-winning actress Rachel Weisz. She's worked alongside a lot of other big stars, including Alexander Skarsgård and Ellen Page in thriller The East, Clark Gregg and Sam Rockwell in comedy Trust Me, and Diane Lane and Dakota Fanning in crime drama Every Secret Thing.
Macdonald's breakout year was 2017, when her first leading role in Patti Cake$ debuted. The drama, directed by Geremy Jasper, depicted Macdonald's Patti as an aspiring rapper. She even managed to land a small role in the acclaimed coming-of-age drama Lady Bird.
Now, she stars in Dumplin', which is already poised to be a big win for the streaming service. It's based on a novel of the same name from 2015, and was helmed by women across the board, from director Anne Fletcher (The Proposal) to writer Kristin Hahn (Aniston's good friend and producing partner). Aniston herself is also a producer. What's more, the soundtrack is going to be out of this world, because it comes directly from country superstar Dolly Parton and features both covers and brand new music from her. So you have that to look forward to in addition to the great performances.
As for Macdonald, 2018 is her year. In addition to Dumplin', she's scheduled to appear in another one of the original movies coming to Netflix in December, Bird Box, which stars Sandra Bullock as a mother who will do anything to save her children after an invisible threat brings a wave of mass suicides. Biographical drama Skin, in which she stars opposite Jamie Bell and Vera Farmiga, premiered at the Toronto International Film Festival in September, but won't be released until sometime in 2019.
And there's more on the horizon. Macdonald will return to Netflix once again for Unbelievable, an eight-episode miniseries based on a "This American Life" episode "Anatomy of Doubt" about a teenage girl who was charged with lying about rape. So even though she continues to play characters much younger than her, it looks like Macdonald has tapped into a market of intriguing and complex teenage girls that will maybe elevate her to dream co-star status herself.
This first-time mom wants to have a home birth, but is she ready? Watch how a doula supports a military mom who's determined to have a home birth in Episode One of Romper's Doula Diaries, Season Two, below. Visit Bustle Digital Group's YouTube page for the next three episodes, launching Mondays in December.