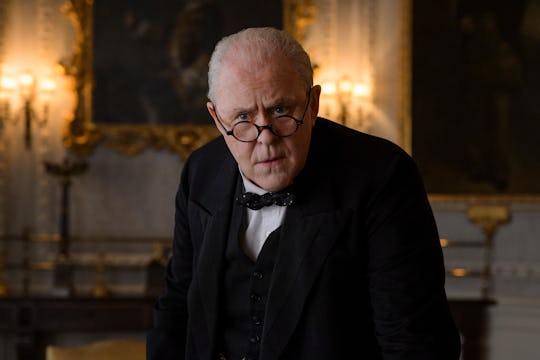 Alex Bailey/Netflix
Who Plays Winston Churchill On 'The Crown'? John Lithgow Makes A Surprising Transformation
One of the surprising relationships Netflix's new period drama The Crown delves into is the dynamic between Queen Elizabeth II during the early years of her ascension to the throne and Prime Minister Winston Churchill. Churchill had just been nominated to his second term as Prime Minister at the age of 75 when Queen Elizabeth was coronated. Deeply beloved by the British for his leadership against German forces in World War II, Churchill was required to work closely with the palace to ensure one another's approval amongst the British people. So who plays Winston Churchill on The Crown? As the only American in the whole cast, John Lithgow nailed the character after an incredible transformation.
Lithgow's acting career has spanned over four decades in film, TV, and on stage. In recent years, he's had character arcs on ABC's Once Upon and Time in Wonderland as The White Rabbit and on Showtime's Dexter as Arthur Mitchell (aka the Trinity Killer). But he's also super well-known for his six seasons starring on 3rd Rock From the Sun and for lending his voice to the many iterations of the Shrek franchise as Lord Farquaad. In addition to two Oscar nominations, Lithgow has won five career Emmys already, and it wouldn't be a surprise if he snagged himself another for his work on The Crown.
The reason show creator Peter Morgan opted to cast an American actor in the role of arguably the most popular statesman in British history actually makes a lot of sense. In a TCA press tour last summer, he told reporters, "There's a point where every Knight of the Realm does his Winston Churchill... there's a little bit of Churchill fatigue [in the British acting community]."
John Lithgow confirmed, "Just about every Englishman I met had an impeccable impersonation of Winston Churchill. This scares the hell out of you." But the fact that Lithgow had never previously imagined playing Winston Churchill is exactly what made him right for the part. The freshness he brought to the role won over producers instantly and he was widely regarded as a better casting choice than bringing in a British actor.
As for his physical transformation, the 6'4" actor had a ton of makeup and wardrobe tricks to help him portray the stout 5'6" Prime Minister. He had prosthetic "jowls," a wig, cotton stuffed up his nose to get Churchill's voice right, a fat suit, and extra padding around his neck and shoulders to give him Churchill's signature hunched over look.
"His position was very fragile," Lithgow told TVGuide of portraying Churchill. "He needed [Queen Elizabeth]. He knew his task of educating her to be queen was essential. So he depended her, she depended on him. And out of that grew, we speculate, an extraordinary relationship." One that you can expect to see played out in full on The Crown as you make your way through its first season.