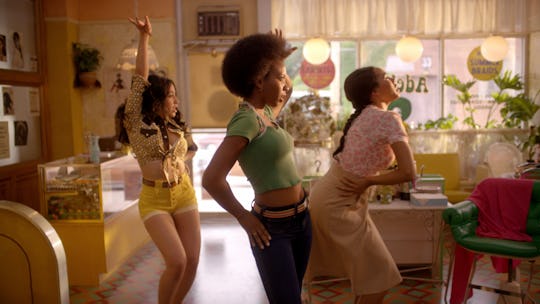 Netflix
Who Plays Yolanda On 'The Get Down'? This Will Be Stefanée Martin's First TV Role
When The Get Down premieres on Netflix on August 12, we'll be introduced to a lot of new talent that hasn't gotten much screen time before, but judging by what we've seen in the trailers so far, that's not really going to be a problem. For Stefanée Martin, who will be playing Yolanda, it will just mean transferring all of her theater talent to the small screen. But who plays Yolanda on The Get Down, exactly? You might not recognize her now since this will be Martin's first major TV role so far in her career, but she has been studying theater and acting on stage for almost 10 years, so a newbie she is not.
While obviously there is going to be so much more to Stefanée Martin than just her singing, dancing, and acting skills, though all three of those are likely what landed her this career-making spot on The Get Down. At the end of the day, she's still a 20-something actress who is down to earth and just wants to have fun with artistic Instagram photos and black and white filters that make everything look amazing. She's also just about positivity, which you can't help but get behind.
Yolanda from The Get Down will be played by Stefanée Martin, whose theater career has been nothing short of extensive. So much so that it only makes sense for her to be able to branch into the arena of TV, albeit streaming TV, which is where it's at right now anyway. But as with most actresses, there is so much more to Martin than the show she'll be co-starring in.
She Has A Master Of Fine Arts From The American Conservatory Theater
In addition to her B.A. in Theater from Temple University, Stefanée Martin has her M.F.A. from the American Conservatory Theater, where she also worked as a young conservatory instructor for a few months, working with the youth summer theater classes. Her education, in addition to her many theater roles, prove just how ready Martin is to be Yolanda on The Get Down.
She Is One Half Of An Adorable Couple
Editor's Note: The Instagram post has since been deleted.
Martin's Instagram is full of adorable photos of her with her boyfriend, who doubles as her "Man Crush Monday" figure, of course. They're a totally cute couple who seem very down-to-earth, so you've got to love that!
She Can Moonlight As A Clown If She Ever Has To
According to Stefanée Martin's Backstage profile, one of her other skills as a performer involves clown training, whatever that means. But I like to think that, instead of her having gone to some legit clown college, it just means that she has experience in playing a crazy amount of different kinds of characters. Or, you know what, maybe she has been trained as a clown, which is pretty cool, too.
She Doesn't Take Herself Too Seriously
Editor's Note: The Instagram post has since been deleted.
Martin seems like someone who would totally let you sit with her and her squad at a party. That might be because her social media world makes her seem like the most normal person ever, not yet touched by the ego that some actors tend to naturally gain once their star really takes off. Still, it's hard to imagine that happening with Martin, when The Get Down seems like one long amazing theatrical production, rather than an intimidating Hollywood movie or TV show.
Her Instagram Really Makes You Want To Be Her Friend
Editor's Note: The Instagram post has since been deleted.
Who wouldn't want to play this version of Jenga?