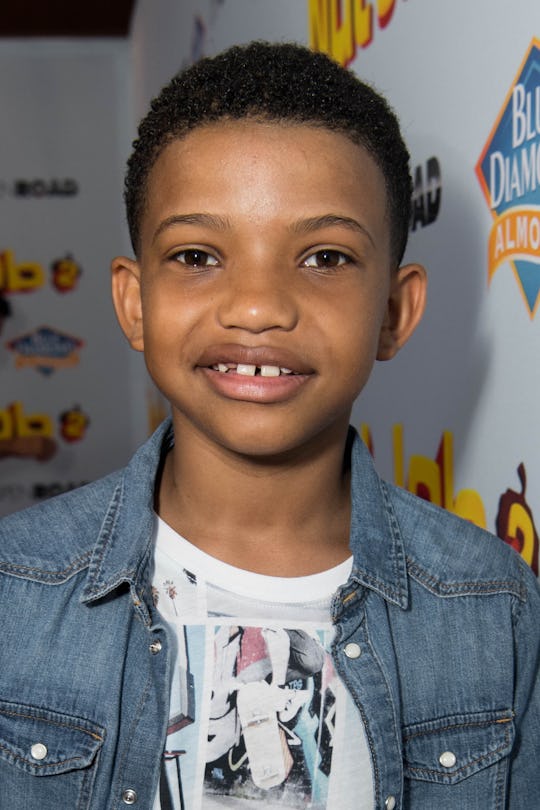 Emma McIntyre/Getty Images Entertainment/Getty Images
Young Randall From 'This Is Us' Is Just As Adorable IRL
The only thing I love more about This Is Us other than the confirmation that I still have a soul with my gallon of tears at the ready, is the kids. The younger versions of Kate, Randall, and Kevin have been amazing so far and it's only the second season. And now that they've all been bumped up to series regulars, fans will be seeing even more of the actor who plays young Randall on This Is Us, Lonnie Chavis. He's already a fan favorite and not just because of his adorable and infectious smile, although that's a big part of it too.
But in just one season, the young actor has managed to portray this brand new character in a way that brings emotion from viewers everywhere and allows us all to see the younger version of the adult Randall, who has already gone through so much on the show. And when nine-year-old Chavis was asked on the red carpet of the 2017 People's Choice Awards what it's like to work on-set with Mandy Moore, he replied, "It's wowzers," so he's every bit as adorable in real life as well. He also told E! News that working with Moore as his TV mom is "awesome" and that "she is so sweet and I love her for what she really is." He also looks up to his TV dad Milo Ventimiglia. "Milo is awesome," the young actor said. "He really inspires me for me not to be shy."
Because of the acting fans have already seen from Chavis throughout Season 1, it's no big surprise that This Is Us isn't his first role in a TV show or movie. Before landing the part of young Randall on This Is Us, Chavis appeared on Nickelodeon's Bella and the Bulldogs and in the shorts We Home, Tortoise, and What Showers Bring. Since becoming Randall, Chavis voiced a character on Tangled: The Series and will be in the upcoming Showtime series White Famous as well, of which Jamie Foxx serves as executive producer.
According to Chavis himself, he wanted to be an actor at an even younger age than he is now. "When I was 5 years old, I was really getting into TV and I knew that I wanted to try acting," he told Twist magazine. Dancing is another big part of his life, but it makes sense that Chavis is a performer in that respect too. "I'm really passionate about dancing because it's another way to express emotions, like acting," he revealed. "I'm always dancing on set, teaching and learning new moves."
Speaking of being on-set of This Is Us, if Chavis' Instagram account (run by his mom) is any indication of what life is like behind the scenes for him and his fellow young co-stars, they're just as close in real life as they are on the show. In real life, Chavis also has two siblings, though, so it probably wasn't a big leap for him.
Editor's Note: The Instagram post has since been deleted.
Recently, almost all of the younger versions of the adult kids on This Is Us were signed on as series regulars for Season 2, meaning a lot more flashbacks and a lot more tears. And while Chavis was the only one who couldn't commit to the series regular title due to his contractual obligations to the new Showtime series, he'll still likely be in enough heart-wrenching and emotional scenes to make up for any lack of screen time there might be for the young actor this season.
In the meantime, I'll be personally looking forward to This Is Us giving me my weekly sob sessions on the couch this fall.
Watch Romper's new video series, Romper's Doula Diaries:
Check out the entire Romper's Doula Diaries series and other videos on Facebook and the Bustle app across Apple TV, Roku, and Amazon Fire TV.