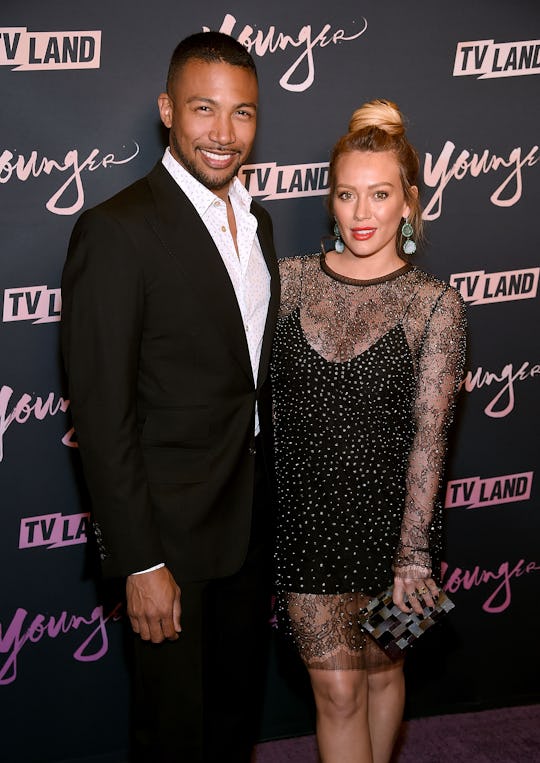 Jamie McCarthy/Getty Images Entertainment/Getty Images
The Actor Who Plays Zane Anders On 'Younger' Might Look Familiar
I'm not sure if the best part about Younger is the much needed message for gender and age equality, or the steamy on-screen love stories it so brilliantly offers. Both aspects of the show, along with an amazing cast and writers are what make it terrific, and luckily for fans, there's going to be a new series regular to added to the mix. You've seen him romance Kelsey in Season 4, but who plays Zane Anders on Younger, and how much more of him will you get in Season 5?
Charles Michael Davis has been making waves as Empirical's new editor and Kelsey's (Hilary Duff) love interest, Zane Anders. If you've watched The Originals, you know that not only is Davis a serious hottie, he's a really terrific actor as well. It's no wonder that TV Land recently announced that Davis will be coming back in Season 5 and joining the cast as a series regular. Now that The Originals is ending with its fifth and final season, it makes sense for Davis to transition to an amazing show like Younger.
Before he played the bloodthirsty vampire who ran New Orleans in The Originals, Davis had a few recurring roles on some top TV dramas. He played Dr. Jason Myers on Season 9 of Grey's Anatomy and played Liam Lupo on Season 1 of Switched at Birth. He's also had shorter roles on various popular series throughout the years, including That's So Raven, The Game, The Client List, and Jane The Virgin.
On Younger, Davis plays an editor who is constantly instigating a competitive rivalry with Kelsey, so both continuously try to poach each others clients. But eventually, all that friction leads to a romance and some pretty steamy love scenes. At the end of Season 4, Charles (Peter Hermann), a senior editor at Empirical, hires Zane to work for the company. So now that he'll be working with Kelsey, rather than against her, it will be interesting to see how their romance unfolds.
The chemistry between the two is almost electric on the show, and it's probably because Ibot Duff and Davis are just as competitive as their on-screen characters in real life. In an interview with TV Fanatic this week, the duo admitted that they compete with own fair share of healthy sparring on set. "We'll always try to walk out of the room faster than the other, beat the other to the door frame," noted Duff, to which Davis added:
"Yeah definitely try to get one up on each other. I think that's what our relationship is."
Aside from the steamy chemistry between the characters, Younger really opens up a story about women in the workplace that needs to be told. The show itself is mainly about Liza (Sutton Foster), a single mother who has a hard time finding a job after being a stay at home mom for years. As a 40-year-old, Liza couldn't seem to land a job, so she fakes her age and pretends to be 26, which lands her a position at a publishing company called Empirical Press. She struggles to hide and separate her home life from her work life so that no one finds out about her real age.
The show hits on a really relevant issue that women have to face as part of the workforce, and as a 38-year-old who spent over a decade as a stay-at-home mom, I can totally relate to the premise. Luckily, Younger will be back for a sixth season in the fall, and with Davis added to the permanent cast, it will be even more fun to watch.