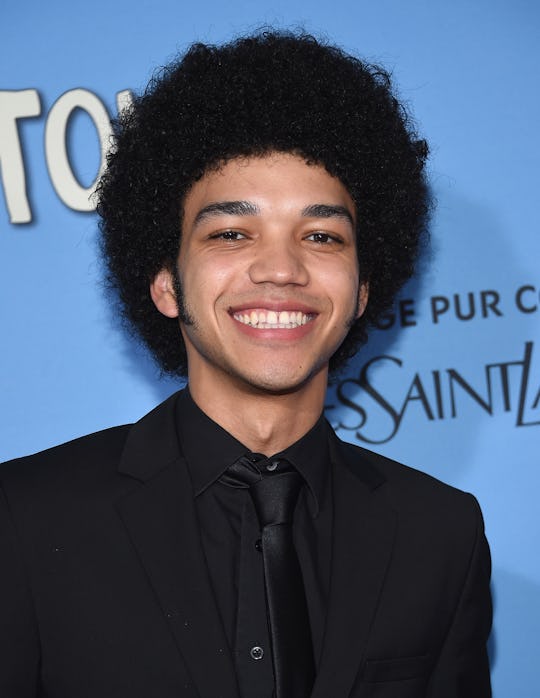 Dimitrios Kambouris/Getty Images Entertainment/Getty Images
Who Plays Zeke On 'The Get Down'? Justice Smith Is A Star On The Rise
The hype is so real for The Get Down, Netflix's upcoming musical drama TV series. The new show is set in the Bronx in the 1970's, during the time in which hip-hop rose and disco fell. Fittingly, the show is from one of the greatest movie musical directors of our time, Baz Luhrmann, along with co-creator Stephen Adly Guirgis, a Pulitzer Prize-winning playwright. With a pedigree like this, the show is obviously expected to be incredible. The young cast looks incredibly promising as well, particularly the young actor who plays Ezekiel (or Zeke) on The Get Down.
The series is by no means a one-man show: The Get Down has four male leads, making up a "rag-tag group of teenagers who run wild in the streets of the late-1970's Bronx" along with a female lead (also a teenager). One of the characters who immediately stood out to me while watching the trailer was Ezekiel "Books" Figuero, who is played by Justice Smith.
Ezekiel is featured heavily in the season trailer – particularly his fraught romance with the female lead, Mylene Cruz (played by newcomer Herizen Guardiola). It's pretty clear that we're going to see incredible performances from these two in particular.
According to an interview with the Los Angeles Times, 20-year-old Smith graduated from the Orange County School of the Arts, where he was part of OCSA's Acting Conservatory, in 2013. While in his senior year at the high school, Smith was chosen to be part of the prestigious YoungArts program, which "identifies and nurtures the most accomplished young artists in the visual, literary, design and performing arts and assists them at critical junctures in their educational and professional development," joining an elite group of alums including Viola Davis, Kerry Washington, Josh Groban, and Jenji Kohan. Clearly, he's an incredibly talented young man.
Though, Smith is a relative newcomer, his star is definitely on the rise.Here is where you've seen the young soon-to-be star before.
Masterclass
Masterclass is an HBO documentary series which follows a small group of young artists (chosen from among YoungArts program participants) as they work with a famous mentor. Smith appeared as himself in an episode where he and other young actors were mentored by actress and playwright Anna Deavere Smith.
The Thundermans
In 2014 and 2015, Smith starred in the recurring role of Angus in two episodes of the Nickelodeon superhero comedy series The Thundermans.
Paper Towns
Smith's big break came in 2015, when he landed the role of Marcus "Radar" Lincoln in the film adaptation of John Green's beloved novel Paper Towns. Smith acted alongside Cara Delevingne and Nat Wolff.