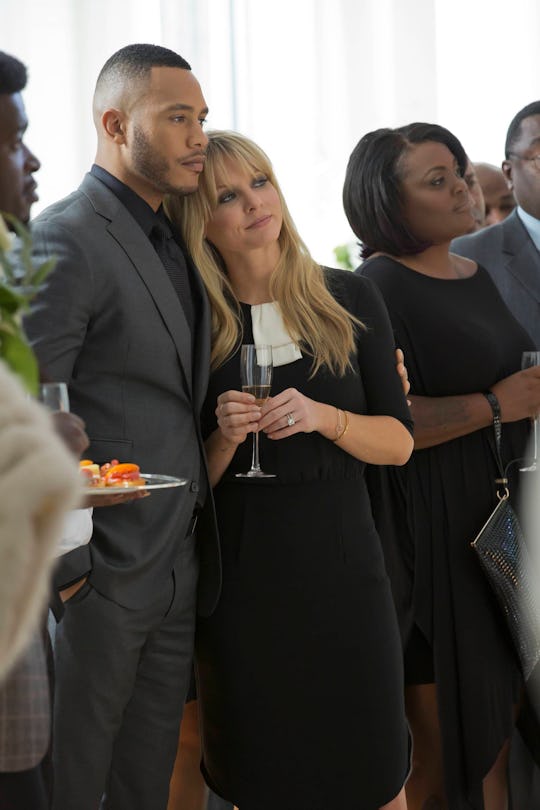 Chuck Hodes/Fox
Who Pushed Rhonda On 'Empire'? It Might Not Be Who You Think
We're closing in on the end of Empire's second season, and one of the show's most dramatic cliffhangers gets resolved in the Season 2 finale (or so we've been promised). The winter finale ended with a very pregnant Rhonda getting pushed down the grand staircase of her home by a mysterious figure. She's spent the second half of the season so far denying that another person was involved and insisting it was just an accident, even though Andre is convinced there's foul play afoot. But as she starts to have flashbacks, it looks like we'll finally have an answer to who pushed Rhonda on Empire.
Previously, showrunner Ilene Chaiken assured us that it was her intention for Anika to be the "prime suspect in the minds of the audience," even though the characters in the world of Empire are in the dark. She told TVLine after the winter finale, "We know we've given her some motive, but it's not an inevitable conclusion that she did it."
More recently, Kaitlin Doubleday, who plays Rhonda on the show, admitted that even she didn't know for five or so episodes who pushed her character, until the writers finally settled on a culprit and revealed the information to her. She admits that "it started out as a certain person, for sure," presumably referencing Anika's obvious involvement in the matter. She has everything to gain! Killing off an heir to the Empire to further her own baby's standing! Using her baby to be welcomed back into the fold! Anika's been exiled and isolated from not just the Empire, but her career. Holding the next Lyon over everyone's head is a perfect way to reclaim her power.
But whoever did push Rhonda still may pose a dangerous threat to her. Doubleday added in her interview with TVLine, "She realizes who pushed her and… she gets to confront [them] in a very dynamic, scary, insane, crazy way. I think the audience [will be] waiting for that confrontation for all eight episodes."
The threat implied here makes it sound like only one of Empire's more dangerous characters could be behind it, and Empire's most dangerous duo is undoubtedly Cookie and Lucious. But Andre's certainty that foul play was involved sort of implicates him, too. Maybe he was overwhelmed with fear that his baby might also have bipolar disorder, and shoved Rhonda down the stairs in the midst of a dissociative state.
For her part, Grace Gealey, who plays Anika (and recently wed Andre actor Trai Byers in real life!) stayed tight lipped, saying, "All I will say is, you gotta watch it. I promise you — the less I say, the more gratifying it will be for you to experience. You'll thank me later!"
We'll start drafting our thank you cards now, then.