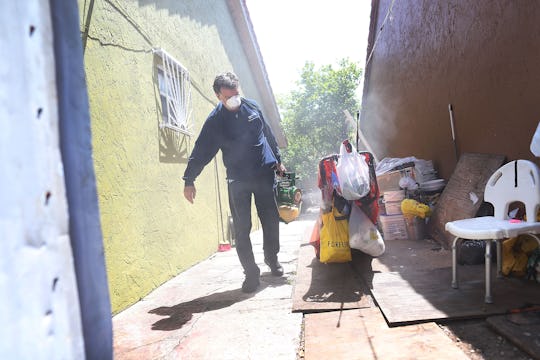 Joe Raedle/Getty Images News/Getty Images
WHO Recommends 8 Weeks Of Safe Sex After Returning From A Zika-Affected Area
On Tuesday, the World Health Organization released its latest Zika-related recommendation, and it is a big one because it doesn't only affect those who live in or have traveled to Zika affected areas: it also affects all of their potential sexual partners. Since Zika can be transmitted sexually, WHO is now advising individuals returning from areas where the virus is present to practice safe sex for eight weeks to ensure Zika is no longer present in the bloodstream or other bodily fluids. Previously, WHO suggested four weeks of safe sex and/or abstinence; however, scientists have found the virus lingers in the body longer than they once believed. In fact, during a press conference, WHO spokesman Christian Lindmeier said the new guidelines "reflect what we have learned about Zika disease and its complications," according to NBC News:
People should practise safer sex or abstain for at least eight weeks if they are returning from Zika-affected areas. The previous recommendation suggested a period of at least four weeks, so we're upping (it).
However, for pregnant women, the World Health Organization's recommendation to practice safe sex or abstain from sex throughout the entire pregnancy remains unchanged:
Pregnant women's sex partners living in or returning from areas where local transmission of Zika virus occurs should practice safe [vaginal, anal, and oral (mouth-to-penis) sex by] wearing condoms, or abstaining throughout the pregnancy.
What's more, Lindmeier and WHO recommend a period of abstinence should be for six months for men who have traveled to a Zika-affected area whose partners are pregnant or for women whose partners have traveled to an area where Zika is active and they are planning to become pregnant.
Lindmeir added that Zika is found in other bodily fluids including urine and saliva. But just how long the virus remains in these fluids and whether it can be transmitted through them remains unclear:
All this is being studied to see where else we find the virus and how long it sustains there.
According to the Centers for Disease Control and Prevention, the most common symptoms of Zika are fever, rash, joint pain, muscle pain, and/or conjunctivitis. However, it is important to note that not everyone who has Zika will know it: only one in five individuals with Zika will experience symptoms, and, according to WebMD, most are actually asymptomatic. That said, since there is no vaccine for Zika and no cure, the best protection remains prevention: prevention from mosquito bites — with pants, long-sleeves, dark colored clothing and insect repellants — and from sexual transmission.