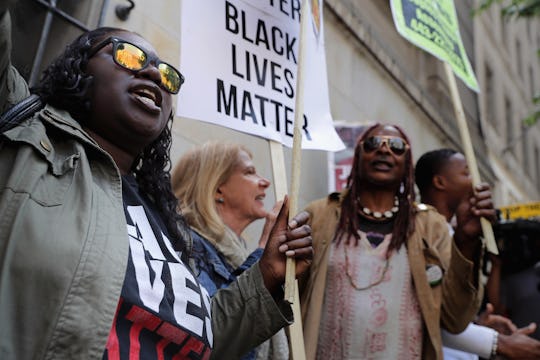 Chip Somodevilla/Getty Images News/Getty Images
Who Shot Alton Sterling? Activists Are Calling For Officers' Names To Be Released
The shooting death of an African American male in Baton Rouge, Louisiana, sparked national concern after a graphic video of the incident appeared online. Who shot Alton Sterling? Though no names have been identified, CNN reported that the Baton Rouge branch of the NAACP is calling for resignations in the local police department.
The Baton Rouge Police Department released a statement on Facebook, according to The Washington Post:
Baton Rouge Police are investigating an officer involved shooting that occurred around 12:35am this morning at 2112 North Foster Dr, Triple S Food Mart. Uniformed officers responded to a disturbance call from a complainant who stated that a black male who was selling music cd's and wearing a red shirt threatened him with a gun. Officers made contact with ALTON STERLING, 37, 6061 Plank Rd, in the parking lot of the business. An altercation between Sterling and the officers ensued. Sterling was shot during the altercation and died at the scene. Two BRPD officers have been placed on administrative leave per standard procedure. This is an ongoing investigation.
The officers placed on administrative leave will likely continue to be paid and receive any benefits associated with their contracts, even though they will not be able to actively serve on the force.
The owner of the Triple S Food Mart where the shooting took place, Abdullah Muflahi, told CNN that he permitted Sterling to sell CDs out front and knew him to be a man who avoided confrontation. Muflahi said he witnessed the events leading up to Sterling's shooting death, according to The Times-Picayune of Greater New Orleans; he claimed that an officer Tased Sterling before any shots were fired.
Video of the incident posted online allegedly shows two police offers speaking with a man who was identified as Sterling by the family's attorney, CNN reported. In the video, an officer appears to tackle Sterling, then both officers seem to pin him down. A voice is heard saying, "He's got a gun" before an officer reaches for something at his waist; a total of five bangs can be heard on the footage.
Coroner William "Beau" Clark attributed the death to homicide following the autopsy, according to The New Orleans Advocate; Sterling had multiple gunshot wounds. Muflahi said police found a gun in Sterling's pocket after the shooting was over, but he also said Sterling did not appear to draw, or attempt to draw, a weapon.
The Baton Rouge branch of the NAACP asked the police chief, Carl Dabadie Jr., to resign, ABC affiliate WGNO reported; the group may expect resignations to extend beyond the chief, as well. Local NAACP leader Michael McClanahan said that there are multiple incidents that give them reason to be concerned about the motivations of individuals within the Baton Rouge Police Department:
What we're going to do is root out the 1% of bad police officers that go around being the judge, the jury, and execution of innocent people, period, but more specifically, innocent black lives.
Louisiana Gov. John Bel Edwards gave a press conference Wednesday morning that aired on CNN. The governor expressed his "condolences" to the Sterling family and said he spoke with Sandra Sterling by phone; she was "distraught" but "gracious," asking that protests remain peaceful. Edwards said that he saw the video, calling it "disturbing" and indicating that he has "very serious concerns." He met with local officials, conversed with officials at the White House, and said that the state intends to "move forward in a deliberate, methodical way." The United States Department of Justice Civil Rights Division will lead the investigation with the assistance of the FBI and local law enforcement. Edwards said he is confident the investigation will be conducted "impartially, professionally, and thoroughly." In the meantime, he asked that local religious and political leaders and community organizers do what they can to promote non-violent protests.