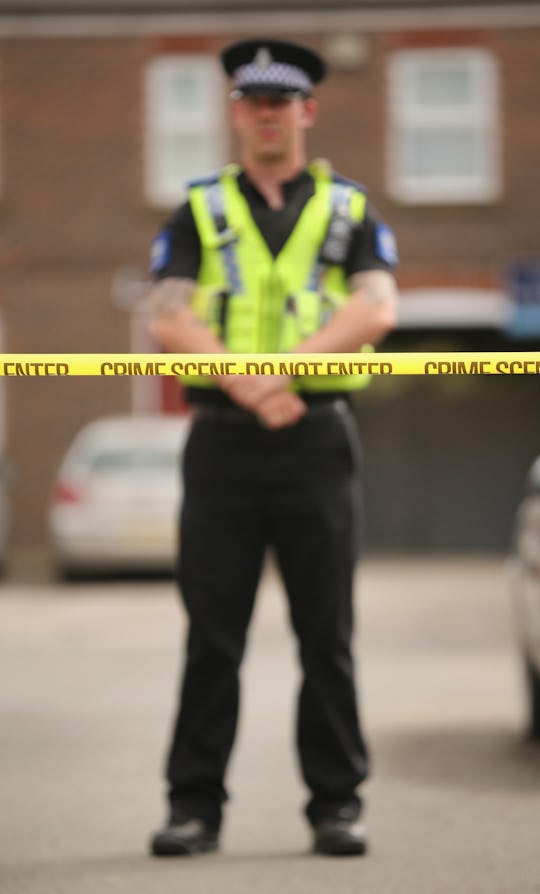 Christopher Furlong/Getty Images News/Getty Images
Who Shot The Des Moines Police Officers? The Suspect Is Armed & Dangerous
Two officers from Iowa were shot overnight in what police are calling "ambush-style" shootings, and now the public has a clue as to who shot the Des Moines police officers: Urbandale resident Scott Michael Greene has been identified as a suspect. Greene, 46, is considered armed and dangerous. The public is urged to call 911 if they spot him, and not to attempt to interact with him directly. He's described as 5'11" with brown hair and green eyes, according to NRP, and is believed to be driving a blue 2011 Ford F-150 truck.
Update: The Associated Press reported that the suspect was captured by police at 9:40 a.m. local time.
The first shooting occurred in Urbandale, a suburb of Des Moines, just after 1 a.m. local time, according to local CBS affiliate KCCI. The second occurred 20 minutes later, just blocks away in Des Moines. Both officers were shot in their vehicles. Sgt. Paul Parizek of the Des Moines Police said at a press conference that it doesn't appear that either officer interacted with the shooter. "There is clearly a danger if you're a police officer,"said Parizek. "These officers were gunned down sitting in their car doing nothing wrong, so there's definitely some danger out there. There's somebody out there shooting police officers. We hope we find him before anyone else gets hurt. We definitely don't want anyone in the public or the community to get hurt. But there is a clear and present danger to police officers right now."
The Des Moines Register has reported that the first officer was discovered after reports of gunfire at at the intersection of 70th Street and Aurora Avenue, and the second was en route to that location when he was shot at the intersection of Merle Hay Road and Sheridan Avenue. The identities of the officers have yet to be released, as their families are still being notified of their deaths. Urbandale schools have been closed for the day.
Greene has a history with local law enforcement, according to the Register. In April 2014, he was charged with interference with official acts after refusing a pat-down, and two days later, he was arrested after calling a man a racial slur and threatening to kill him. Green pleaded guilty to a charge of harassment and served one year of probation. Urbandale school district officials told the paper that just over two weeks ago, police removed Greene from a high school football game. A video posted to YouTube under an account bearing his name shows a man that appears to be Greene arguing with police for over 10 minutes after his ejection from the stadium. The altercation appears to have been caused by Greene waving a Confederate flag.