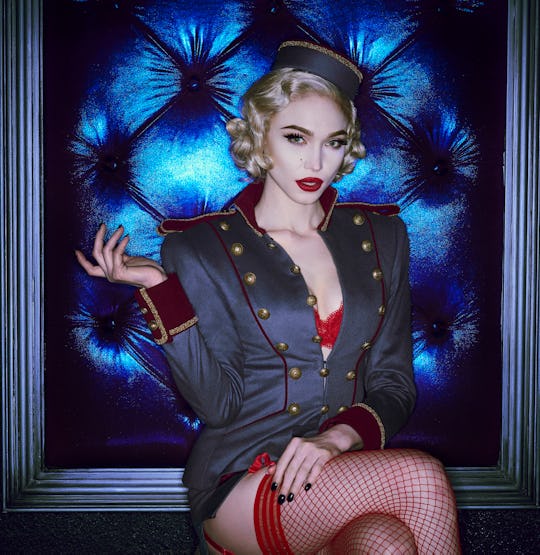 Fox
Who Sings "Science Fiction Double Picture" In 'Rocky Horror'? Ivy Levan Is A Breakout Star
For FOX's reimagining of The Rocky Horror Picture Show: Let's Do The Time Warp Again, the team behind the special tried to avoid doing a simple remake of the 1975 cult classic. So they took some creative liberties in developing the tribute. For example, the montage that opens the original movie, set to the song "Science Fiction Double Feature," has been swapped out in favor of mirroring the stage version's execution of that number. So who sings "Science Fiction Double Feature" in Rocky Horror? Instead of a disembodied voice scoring the montage, singer-songwriter Ivy Levan will actually join the cast as the character who sings the track.
In the stage version of The Rocky Horror Show, a character referred to in the script as "Usherette" (later commonly known as "Trixie") opens and closes the show with the song "Science Fiction Double Feature" and its reprise, which function as narrative bookends — a sort of prologue and epilogue to the story of Rocky Horror. She's usually played by the same actress who plays Magenta, since the two never appear on stage together at the same time, but FOX has decided to spotlight an up-and-coming talent in the role, instead of casting Christina Milian on two character tracks. Patricia Quinn, who originated the role on stage, didn't go on to sing the song in the 1975 movie, but her lips are the iconic red-lipsticked mouth lip-syncing the words in the film's opening.
Levan seems to have a more active role in the FOX version, bringing the character of Usherette to life on screen for the first time. Part of the reason production decided to incorporate the character was to pay homage to the "shadow casts" who perform the show at midnight screenings. She was added "as a way of establishing the feeling that the TV production is being done in front of an audience," according to an interview in The Fresno Bee.
Although she has a studio album and a couple of EPs out, Levan got the role thanks largely to her friendship with Adam Lambert, who plays Eddie in the FOX tribute. He recommended her to director Kenny Ortega and Levan began shooting just days after being cast. Ortega pretty much gave the singer free reign with the part, allowing her own personality to inform the role, more or less.
"I did that and added a little more sass," Levan revealed in the same interview. "It was pretty nerve-wracking, but easy in the end."
Levan seems poised to be the breakout star of the tribute, airing October 20 on FOX.