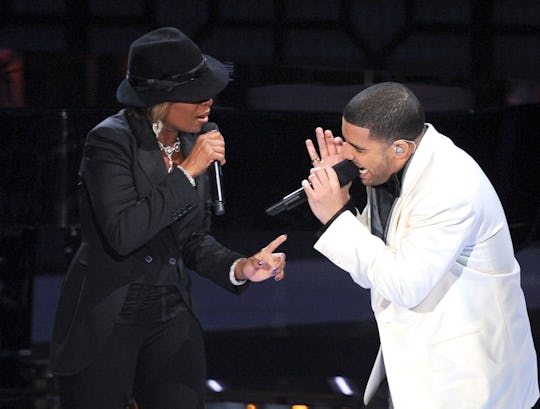 Kevin Winter/Getty Images Entertainment/Getty Images
Who Sings The Beginning Of Drake's 'Weston Road Flows?' The Sample Is Perfect
If you've been listening to Drake's Views From The 6 on repeat since its release last Friday, you've probably already chosen your favorite tunes. There are a lot of stand outs, most notably Drake's epic "Weston Road Flows." But who's singing on the beginning of "Weston Road Flows" and why do they sound so familiar?
That voice of course belongs to none other than hip hop's most legendary crooner, Mary J. Blige. You thought you recognized that hook, right? In the true spirit of hip hop, Drake used a sample from Blige's "Mary's Joint", a single off of her most famous album, 1994's My Life. It's kind of shame there isn't a new collaboration with Blige on the album, but when it comes to nostalgic tracks about Drake's youth, there is no better song to sample than one of everyone's favorite '90s songs.
Fans were stoked to hear Mary's voice in the background of Drake's track. Revolt TV tweeted that the sample "goes hardddddd," which was no lie. It certainly adds to the whole vibe of the song, if not the album, for sure. It's not the first time Drake and Blige have "worked" together either: Drake has previously been featured on Blige's songs "Mr. Wrong" and "The One," both of which BET included in its list of Blige's best collaborations of all time. There's obviously some mutual respect there.
Conceptually, it makes sense that Drake would merely sample "Mary's Joint." He's a well-known lover of '90s hip-hop and if he's just riding around Toronto, thinking about life in "Weston Road Flows," then it makes sense he would have the hit in the back of his brain. It's a shame that he didn't feature Blige on the album like she featured him on My Life II… The Journey Continues (Act I). Blige is the queen of finding great rappers with melodic voices like Drake's to make a song perfect. Seeing Drake return the favor would have been fun to watch.
The Mary J. Blige sample on "Weston Road Flow" has given some fans one more reason to love Drake as well (as if they ever stopped), as evidenced on Twitter this week:
When you have fans screaming "yaaaas" on Twitter and talking about "mad fire," that means you've done something right as an artist. Blige is currently in the studio these days herself recording a new album, according to her Twitter bio. Let's hope the two partner up for real this time and we get to hear a little Drake on the singer's upcoming album. Although, even if he doesn't make an appearance, the album will still likely be a crazy hit. Mary J. Blige doesn't need any help slaying.