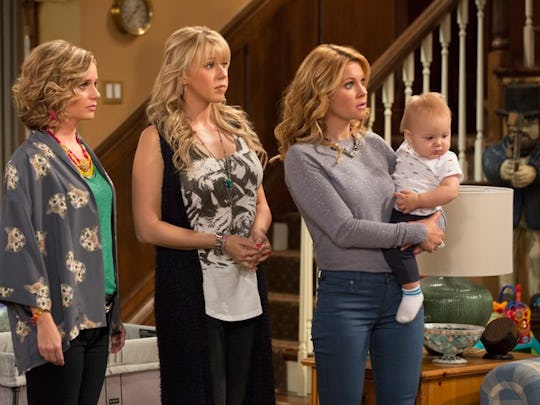 Netflix
Who Sings The 'Fuller House' Theme Song? She Has The Perfect Voice For It
Netflix is rebooting the '90s classic Full House with a sequel-series, Fuller House, and since that announcement fans of the show have been ecstatic. It debuts this month, but already there is a lot of speculation about the plot, the characters, what's changed and what's the same. The theme song that many fans still can't get out of their heads is not going to change, but it will have a new singer. So who sings the Fuller House theme song?
According to Entertainment Weekly, pop sweetheart Carly Rae Jepsen will sing the Fuller House theme song. The original was performed by Jesse Frederick, and, while it was very fitting for the original iteration of the show, it only seems appropriate that this new season has a woman sing its theme. When Uncle Jesse, Mr. Tanner, and the whole gang were in the house, it was the story of men working together to raise this family. The new series picks up many years later, when D.J., Stephanie, and Kimmy Gibbler return to the Tanner house after being widowed or divorced to raise their kids with each other's help. Sound familiar? It is, but it was definitely a good move to use the theme to underscore the new, feminist angle of the spinoff series.
Carly Rae Jepsen, the singer who brought us the addictive "Call Me Maybe" and "Run Away With Me," announced on Twitter that she would be singing the theme for the Netflix original series.
For the project, Jepsen collaborated with songwriter and producer Butch Walker to cover and rework the iconic tune, "Everywhere You Look." Walker, a veteran to commercial songwriting, has written hits for Avril Lavigne, Hot Hot Heat, Weezer, and Fall Out Boy, just to name a few. Though Jesse Frederick's original version of the song was fitting for Full House — family-friendly, upbeat — it was sorely in need of an update.
With Jepsen singing and Walker producing, it's going to be a very different song than the one Full House fans came to know and love. It's a risky move, covering such a beloved, nostalgia-inducing song, but most likely they'll keep the feeling of it intact as a nod to the original. What they'll probably drop are some of the outdated '90s conventions, like the slap bass solo, the backup chorus, the tambourine — but who knows? The new song won't be released until the show debuts on Feb. 26, so fans will have to wait till then to hear Jepsen and Walker's reimagining of the T.V. classic.