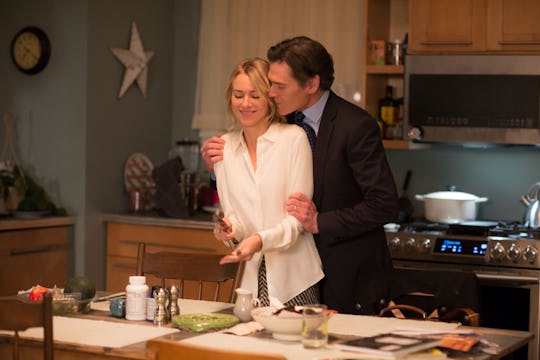 Alison Cohen Rosa/Netflix
The Song In 'Gypsy's Opening Credits May Sound Very Familiar
In a sexy psychological thriller, you have to have a good soundtrack to go with it, right? The same goes for any TV show, and especially when it comes to the theme song. That being said, who sings the Gypsy opening credits? The new Netflix series is about a therapist who gets too deeply involved in her patients' lives to the point of living a double one of her own, so "Gypsy" is probably the perfect song for the opening credits to showcase.
Stevie Nicks re-recorded the popular Fleetwood Mac song, which just so happens to share the same title as the Netflix series. But that's no coincidence. In fact, the song is the reason the series was given its name. "I didn't know the song 'Gypsy,' so when it came on, the tone felt so right," Gypsy creator Lisa Rubin told Entertainment Weekly in a recent interview. "I looked up the lyrics and what it meant and it resonated, all of that longing and feeling, it felt fitting for the show, so it became part of the fabric."
And for her part, Nicks was more than happy to play with the original song and come up with a different version for the Netflix project. "I'm very excited for the world to hear 'Gypsy' more like I wrote it — on piano," Nicks stated in the same Entertainment Weekly interview. "I am very proud of this version." And if Nicks is involved, you just know it's going to be good. But hey, don't just take my word for it. You can listen for yourself below...
"It suggests this idea of grounding yourself in who you used to be and the different versions of yourself," Rubin added to Entertainment Weekly. "There's melancholy in it, but something that also feels romantic… It feels bare and haunting. It's still the same song, but there's a darker element… Tonally, there's both an eeriness and something bare that speaks to the ideas of identity and everything that's going on at Jean's core."
Once Rubin developed her script and production had already begun, the original recording of "Gypsy" still didn't quite fit it for her. So after some scrambling and writing a letter to Nicks herself, the singer eventually agreed to rework the song for the opening sequence of the new Netflix series. And when you listen to the lyrics and think about Naomi Watts' character Jean Holloway's foray into living this intense double life while discovering whole new parts of herself, it really works to help you can see how the inspiration was drawn from the song alone.