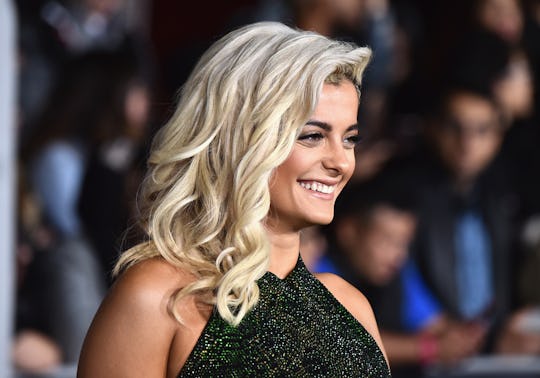 Frazer Harrison/Getty Images Entertainment/Getty Images
The Opening Number For 'A Christmas Story Live!' Is A Must-See
Fox's A Christmas Story Live! opened with a shot of a television (very Inception) that transitioned quickly into a pop musical number that welcomed viewers into the show. But who sings the opening song on A Christmas Story Live!? The performer in question didn't appear to be part of the main cast or central story, as evidenced by her more modern wardrobe; A Christmas Story is set in the 1950s, but the opening song was modern from its costuming to its sound.
Bebe Rexha performed the opening song accompanied by an assortment of excited background actors. It was unclear how exactly the scene fit into the rest of the production, especially as it stood out stylistically in just about every way possible. Some audience members commenting on the show on Twitter noticed how it resembled an Old Navy or Gap advertisement more than a scene from A Christmas Story, but that may have been the point. The TV framing device that bookended the opening number could have meant that it was intended to seem like a commercial, even if the product was difficult to determine. Regardless, it was an interesting way to usher viewers into the next three hours of their night.
Rexha is a singer, songwriter, and producer who has worked on songs for many well-known pop stars, like Rihanna and Selena Gomez. You might remember 2013's "The Monster," which Rexha has a writing credit on alongside Eminem and Jon Bellion. Rexha has put out her own music as well, starting with the 2015 EP I Don't Wanna Grow Up and then followed by All Your Fault: Pt. 1 in 2016 and All Your Fault: Pt. 2 in 2017.
The song she performed for A Christmas Story Live! was an original song written specifically for the telecast called "Count On Christmas." Though the cinematic version of A Christmas Story had made the jump to the stage years earlier, songwriters Benj Pasek and Justin Paul added a few more original numbers for the TV version, and Rexha was able to grab the very first one.
Pasek and Paul are responsible for the music of Dear Evan Hanson as well as the stage version of James and the Giant Peach and even a few songs on Season 2 of NBC's Smash. They tackled A Christmas Story: The Musical in 2013 and were nominated for a Tony Award for Best Original Score. The awards love didn't stop there for them, either. They won the Oscar for Best Original Song for "City of Stars," one of a few songs written by them for the movie La La Land. They will continue to branch out into film by providing songs for The Greatest Showman and the live action version of Aladdin.
Though "Count On Christmas" might have sounded different from many of the other songs in the production at first listen, it did come from the same songwriters who lent the musical the rest of its numbers. It's a little unclear why A Christmas Story Live! needed a more modern pop song to get things started and lead into the rest of the show, but it did seem to mirror a choice made by another of Fox's television musicals. Their adaptation of The Rocky Horror Picture Show featured a performer disconnected from the rest of the show stepping in to open things with "Science Fiction Double Feature." The only difference was that song had been in the original production from day one.
Those who enjoyed Rexha's performance of the opening song can find it for purchase on iTunes. It may have been an unexpected way to begin the evening, but even if viewers were a little perplexed, they would be sure to remember it.
Check out Romper's new video series, Romper's Doula Diaries:
Watch full episodes of Romper's Doula Diaries on Facebook Watch.