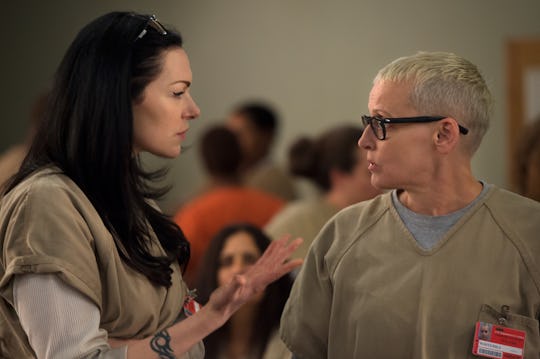 JoJo Whilden/Netflix
Who Sings The Song In 'Orange Is The New Black' End Credits Of Episode 1? It Is Fitting
There's no doubt that Orange Is the New Black is a bit tongue-in-cheek. One fine example of that occurs during the final moments of the first episode of Season 4. There's a song that plays during the end credits that fits so well with the current climate of the show, you can't help but start singing it in your head. So, who sings the song in the Orange Is the New Black end credits in Season 4 Episode 1? Allow me to introduce you to your new favorite ukulele song.
(Spoilers from Season 4 Episode 1 of Orange Is the New Black.) In the first episode of the season, Lolly kills Aydin after he was trying to kill Alex. Except, Lolly didn't quite kill Aydin, so Alex had to finish the murder herself while trying to dispose of his body. The two then teamed up with Frieda in officially disposing the body in the garden — that would soon become Judy King's new favorite place — and the rest was history. The scene was perfectly framed with a song that contained lyrics like "mother f*cker got f*cked up cause he got in the way."
So, who sings this song that almost seems made for this scene?
The duo that sings this song, called "Mother F*cker Got F*cked Up", is called Folk Uke. The two, named Cathy and Amy, seem to be just as excited about their song making it into Orange Is the New Black as fans probably are to hear such a fitting song. The group even tweeted about their song appearing in Season 4 just days before the premiere took place.
According to Folk Uke's website, the duo came together at a bar — where they both worked — in 1998. "With a ukulele and an acoustic guitar, they formed a band for the same reason kids join gangs," their website reads, "just to survive, but also to unleash the brilliance that was poking them from within." The duo definitely doesn't try to overhype themselves. They say "they're just kind of amazing" on their website.
While the self-deprecating humor is funny, the two are definitely charming and their song is equally charming for the show. If you want to see more from the duo, you can just check out their site for merchandise, shows, and videos.