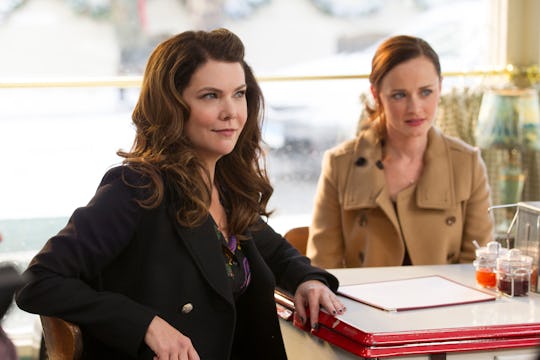 Saeed Adyani/Netflix
Who Sings The "With A Little Help From My Friends" Cover In The 'Gilmore Girls' Revival?
Because Logan is Logan — meaning part-charming and part-infuriating, he showed up with the Life and Death Brigade for a little nighttime adventure even after Rory tried to end their romantic relationship. And as great as that scene was, some of you may be wondering who sings "With a Little Help from my Friends" in the Gilmore Girls revival? The scene and cover song is a tribute both to The Beatles, and to the film Across the Universe (starring Jim Sturgess), whose version the revival copied almost exactly. The weird, charming, whimsical scene that followed was a perfect ode to both, as well as the charming and weird Life and Death Brigade itself.
These Life and Death Brigade shindigs were part of the reason audiences ever fell in love with Logan to begin with. Who couldn't love a man who looked like that, with excellent taste in crinolines, and who encouraged Rory to jump from 30 feet up with an umbrella as a parachute. And running around Stars Hollow in the middle of the night, in costume, while this particular version of "With a Little Help from my Friends" played in the background turned out to be just what the doctor ordered to get Rory out of her funk. The lyrics alone are so poetic and almost hilariously perfect for the situation.
"What do I do when my love is away? (does it worry you to be alone?) How do I feel by the end of the day? (are you sad because you're on your own?)." Considering that Rory had just tried to end her strange relationship with Logan, and was in the middle of a fight with her mother, these words are pretty apt for the carefree and beautiful moment she had as soon as she got a little help from her friends.
The 2007 film itself Across the Universe, was a weird, psychedelic take on The Beatles and all of their most classic songs. This version of the song was offbeat and beautiful, and worked wonderfully with the rather psychedelic scene itself, more even than the original song would have. The night was long and fun and in the morning, Rory was ready to move on with her life and get forward with writing her book.