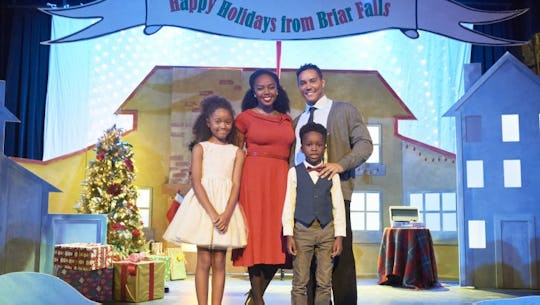 2018 Crown Media United States LLC/Photographer: Daniel Haber
Hallmark's 'A Majestic Christmas' Has A Pretty Stellar Cast
If you haven't tapped into Hallmark's Countdown to Christmas yet, you're seriously missing out. Their holiday movie lineup is up and running with air dates that began already and it's fire. Whatever you're in the mood for, they have a movie for it. What better way to get in the Christmas spirit than cozying up with any one of Hallmark's original movies like A Majestic Christmas? There isn't a better way, honestly, so don't even try. If the title alone has you interested, you're probably who stars in A Majestic Christmas.
The cast of A Majestic Christmas includes Jerrika Hinton and Christian Vincent, according to Entertainment Tonight. You might remember Hinton from Grey's Anatomy, or more recently from the TV series Here and Now where she played Ashley Collins. She's also had roles in shows like Bones, Scandal, Ghost Whisperer, and Gossip Girl. She's been in almost everything, basically. Plus, with over 427k Instagram followers, her content is up to par. Whether it's movie stills or photos with friends or things she's passionate about, she's worth a look and a follow. Vincent has been in movies like 500 Days of Summer, worked on the hit film, The Shape of Water, and Noah's Arc: Jumping the Broom, and had other roles in shows like Smallville and Buffy the Vampire Slayer. He may not have quite as many Instagram followers, but that doesn't mean you shouldn't obsess over his feed. It's full of dance because he's not only a talented actor, but also a talented dancer, and "Professor at USC Kaufman and Co-Creator of Kairos Pro Dance Prep and Faculty member at LA Dance Magic Dance Convention," according to his profile. I mean, what can't he do, basically? Nothing — the answer is nothing because the dude can do it all. A Majestic Christmas has paired up two talented actors, for sure.
A Majestic Christmas is about Nell (Hinton), an architect, who returns to her beloved home town of Briar Falls. Her mission? To transform the historic Majestic Playhouse into a multiplex with a modern twist. Although the town isn't exactly all for it — they actually don't want this to happen at all. This project is Nell's huge promotion — and one she really didn't want. It's especially clear once she meets Connor (Vincent), the new theater owner because the two can't get on the same page with their ideas for the theater's future.
You might think you know where this is going and you're probably right. Connor doesn't have the experience necessary and doesn't even do the whole Christmas thing. This is where Nell comes in to teach him all about the holiday during the Briar Falls Twelve Day Festival, hoping to get Connor to shift his thinking on making the Majestic a little more modern. Something tells me there's going to be a compromise of sorts, some holiday magic, and a kiss involved somewhere and I'm not mad about it.
There really aren't enough good things to say about this movie or cast. Christmas time is the best time to indulge in all the feel-good TV and films, so why not start with one so "majestic?"
This first-time mom wants to have a home birth, but is she ready? Watch how a doula supports a military mom who's determined to have a home birth in Episode One of Romper's Doula Diaries, Season Two, below. Visit Bustle Digital Group's YouTube page for the next three episodes, launching every Monday starting November 26.