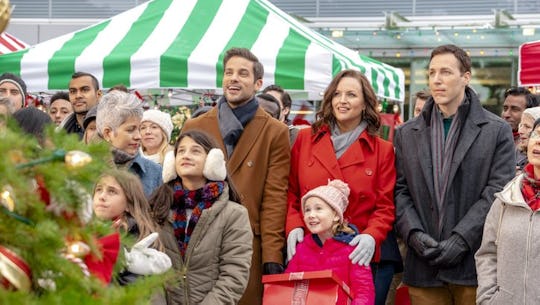 2018 Crown Media United States LLC/Photographer: Bettina Strauss
The Cast Of 'Mingle All The Way' Has A Bionic Woman — Don't Miss It
If you're not already knee-deep in Christmas movies, there's still time to catch up. Sure, the holidays are about giving more than receiving, but who's to say you can' enjoy a little R&R in the mean time? Plus, with all the Hallmark original movies in the Countdown to Christmas, it's like giving a gift to yourself every time you tune in. One of those must-see originals — Mingle All the Way — premieres Saturday, Dec. 1 at 9 p.m. ET. So who stars in Mingle All the Way?
The all-star cast features Days of Our Lives regular, Jen Lilley, Pretty Little Liars and Fifty Shades Freed star Brant Daugherty, and the Bionic Woman herself, Lindsay Wagner. As for the movie, Mingle All the Way is a new-age take on romance around the holidays. The official description says that on the movie, "Mingle All the Way is a new networking app designed to pair busy professionals together for upcoming events, without long-term romance." Sounds cool enough. Founder of the app, Molly will do anything to prove to her family and everyone else the app is a success. You know what that means — she joins it herself, and of course, meets someone as busy as she is, Jeff. But when the two are matched, the quickly realize they've already met (because of course they have!). With all the pressure to prove this app works, the two agree to pair up — for the sake of business — for all holiday activities. They likely end up getting more than they bargained for. You know, like love.
Mingle All the Way marks Lilley's third executive producer credit. She recently spoke with Entertainment Tonight about what attracted her to the script saying, "One thing I loved about the script is that it's a little outside the normal formula, and that's OK. It's still got that Meg Ryan, Tom Hanks charm that I look for in all rom-coms." She went on to talk about what makes the characters so special. "Molly is such a boss. I hate to say the word 'boss lady,' so we'll say boss. I hate that as a girl. You can just be a boss! ... I thought that was a pretty modern spin on a rom-com. I think it's something that every generation that's currently alive right now can relate to because everyone is using dating apps; from your little sister, to us... to your nana. Everybody's on dating apps!"
As for the movie itself and the good tidings of the Hallmark channel in general, she said, "It's such a form of escape. No matter what political side you're on, you know when you turn on Hallmark Channel it's just going to be feel good and so many of us need that. There's just so much tension going on politically, emotionally, racially... It's so nice to sit down and be able to turn on a movie that's going to entertain you, but is also not that unpredictable... It's like a big bowl of macaroni and cheese. It's delicious and warm and comforting and makes you feel good."
As a musician and singer, Lilley's also working on a studio album due out in February. She released a holiday album three years ago to test the waters. In the same interview Lilley confessed her first single, "King of Hearts," came out in October. It was her first video and featured her husband, Jason Wayne.
The cast is everything, the plot is everything, and with the Christmas quickly approaching, the time to kick back and watch Mingle All the Way is definitely everything.
This first-time mom wants to have a home birth, but is she ready? Watch how a doula supports a military mom who's determined to have a home birth in Episode One of Romper's Doula Diaries, Season Two, below. Visit Bustle Digital Group's YouTube page for the next three episodes, launching every Monday starting November 26.