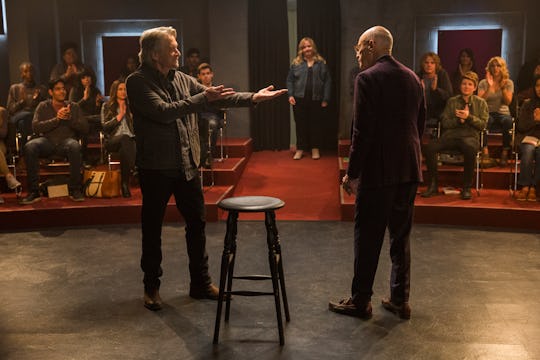 Courtesy of Netflix
Michael Douglas & Alan Arkin Are Excited To Star In 'The Kominsky Method'
If you don't have any plans yet this weekend, Netflix has got you covered. Netflix is dropping a new show called The Kominsky Method on Friday, and you're probably wanting a few more details. For example, who stars in The Kominsky Method? Well, the show stars two veteran actors: Michael Douglas and Alak Arkin.
Douglas plays Sandy Kominsky, an actor who experienced a little fame, but now works as an acting coach. Arkin plays Norman Newlander, Sandy's talent agent and friend. Norman's wife Eileen (Susan Sullivan) is ill, and in the show's pilot, she asks Sandy to take care of her husband after she's gone. In his own special way, Sandy goes on to do just that.
In addition to the two leading men, recurring actors on the The Kominsky Method include Sarah Baker as Mindy, Sandy's daughter; Lisa Edelstein as Phoebe, Norman's daughter who he takes to rehab; Nancy Travis as Lisa, Sandy's acting student and love interest; as well as Emily Osment, Graham Rogers, Ashleigh LaThrop, Jenna Lyng Adams, Melissa Tang, and Casey Brown as students in Sandy's acting class. Additionally, Douglas' real life friend and legendary actor Danny DeVito has a small but mighty part as Sandy's urologist.
Douglas and Arkin both opened up about the process of acting on the eight-episode tragicomedy in recent interviews. The two men had never met prior to The Kominsky Method, and by the end of the filming process, Arkin was very impressed with Douglas. "He has a very determined air in film," Arkin told The New York Times. "There's something very committed about his demeanor — 'This is the way I am, this is the way it's going to be.'" Arkin also added of Douglas: "There's something endearing about him in this series that I don't think I've seen before — a vulnerability that's very appealing."
Douglas got honest about the subject matter of The Kominsky Method hitting close to home, since the show is about two aging men. "The aging process is not exactly a big belly laugh," Douglas told USA Today. "I love the tragicomedy area ... The chance to do comedy, which is not necessarily what I'm not known for or comes easily to me, was a learning process and a chance to learn more about timing."
Douglas and Arkin's combined century of acting experience prepared them for these roles in more ways than one. As mentioned above, Douglas plays an acting teacher, and Arkin is his talent agent. As Douglas struggles to remain relevant as an actor under Arkin's leadership, The Kominsky Method shows many scenes in Sandy's classroom, which Norman sometimes visits. In one scene in the trailer, Norman recites a passionate speech about human nature.
"It hurts to be human. It hurts like hell," Norman declares, voice breaking. "And all the exploring in the world doesn't make that hurt go away, because being human and being hurt are the same damn thing." The camera then cuts to Sandy's emotionally-affected students, who erupt into applause, assuming it was a rehearsed monologue.
So whether you're an old man with prostate problems or a young woman, well, without prostate problems, everyone can relate to that.
The Kominsky Method drops on Netflix Nov. 16.