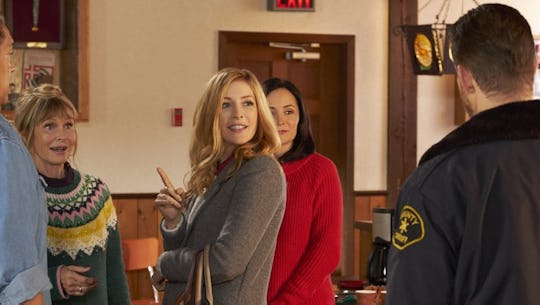 Hallmark/Crowne Press
Here Are Two Good Reasons To Watch 'Welcome To Christmas'
The stars have come out in full force through all the holiday and Christmas-themed movies. The Hallmark Channel (among others) have scooped up your favorite TV and movie celebs to give you the holiday movie of your dreams. If you've already marked the date and time of the movies you're interested in,Welcome to Christmas may ring a bell. And, in case you haven't researched the original movie, you might wonder who stars in Welcome to Christmas so you know whether or not to fully invest or not. Have no fear; your answer is here.
Welcome to Christmas stars Jennifer Finnigan and Eric Mabius, according to the Hallmark website. If you recognize Finnigan, it's because she's currently on Season 2 of the CBS show, Salvation, as Grace Barrow, and before that, she acted for two seasons of Tyrant on FX. And more than that — she's been in countless other proejcts. Between the medical drama Monday Mornings and another Hallmark movie, Walking the Dog, Finnigan has won three consecutive Daytime Emmys for her roles. Not only that, she's married to actor, Jonathan Silverman, and mom to Ella Jack who turned one on Sept. 29 of this year.
Finnigan's costar, Eric Mabius, has his own impressive list of credits, though he is most known for his role as Betty's boss on Ugly Betty. His career spans over two decades with his film debut in Welcome to the Dollhouse (#tbt anyone?) and including Cruel Intentions, The Crow: Salvation, and Resident Evil. Oh, and let me never forget his appearances on shows like The O.C., The L Word, and Chicago Fire, to name a few. This isn't his first Hallmark movie, either. To catch up before watching him as Gage in Welcome to Christmas, check him out in How to Fall in Love and Reading Writing & Romance.
As for Welcome to Christmas, Finnigan and Mabius create a little Christmas magic in the quaint town of Christmas, Colorado. Madison Lane is a resort developer whose mission is to find the perfect spot for a new ski resort. Her initial idea is to build it in Mountain Park, but her boss has a better idea — go to Christmas, Colorado and see if it's an even better location. And did I mention they're offering an incentive package? Yeah. That changes things.
Things are going as planned until Madison crashes into the town's welcome sign, damaging her car and leaving her stranded. Thanks to helpful Town Sheriff, Gage McBride (Mabius), she hitches a ride and makes it to the town meeting while her car's in the shop. The meeting is a full-on plea to convince Madison to choose Christmas as her destination for the resort and, while stuck there, Madsion finds the community's charm and gets to know the people who are advocating for the resort. I'm sure there's a little something between she and the good Sheriff but you'll have to tune in to see.
For those of you who think holiday movies aren't your thing, Hallmark's efforts to draw you in by casting actors you know and love is a smart move. So, while you might not watch for the ski resort situation, you may check it out because you loved Finnigan in Close to Home and Mabius in Blue Bloods. Either way, don't miss this one.
This first-time mom wants to have a home birth, but is she ready? Watch how a doula supports a military mom who's determined to have a home birth in Episode One of Romper's Doula Diaries, Season Two, below. Visit Bustle Digital Group's YouTube page for the next three episodes, launching Mondays in December.