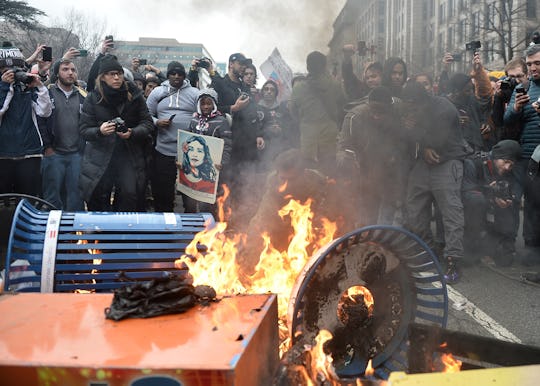 ANDREW CABALLERO-REYNOLDS/AFP/Getty Images
Fire Seen During Protests At Inaugural Parade
On Friday afternoon, activists took to the streets of Washington, D.C. to protest the inauguration of Donald Trump as 45th president of the United States. The march has been largely civil, although some demonstrations resulted in damaged property. That left some wondering: Who start the fire at the inaugural parade? Because it's certainly got people talking.
According to a reporter with CBS News, protestors set a black limo on fire outside of the inaugural parade route in Franklin Square in downtown Washington. A video posted by a Washington Post correspondent shows black and gray smoke bellowing from the windows of a stretch limo parked on a curb between two bare trees and near a garbage can. The windows of the luxury car are busted in, and "We the People" with the anarchy "A" symbol are spray painted in gold on its side.
The limo wasn't the only vehicle burning along the parade route. According to ABC News, another car on K Street was also lit on fire by members of a group dressed in black. In addition to setting fires, the group of protestors allegedly vandalized store windows and caused other property damage in the area, and clashed with police.
A video posted to Twitter by Los Angeles Times reporter Matt Pearce showed a wall of police dressed in riot gear and carrying shields moving towards the fire. People in the background could be heard shouting, "Move out of the way," as the cops advanced towards the crowd in front of them.
Although the protests, as a whole, have been nonviolent, there have been some attendees who've escalated the demonstrations. According to the Washington Post, some protestors began throwing rocks, bricks, and concrete blocks, as well as blocking the street with newspaper boxes and barriers. Protestors also set small isolated fires along the protest route, and windows at a local Starbucks, Bank of America, and McDonalds were destroyed.
According to ABC News, police said in a statement that, allegedly,
... members of the group acting in a concerted effort engaged in acts of vandalism and several instances of destruction of property.
Protestors were blocked off from protestors by at least 100 police officers who formed a line, the Post reported. Some people marching threw rocks at the cops. Those cops then used pepper spray and flash-bang grenades to disperse the protestors and repress the demonstrations. Police arrested at least 95 demonstrators as of Friday afternoon, according to Variety.
Of course, this type of behavior does nothing to help actual protests, nor does it help protesters; And though no one can be sure who exactly was behind the fire, it's safe to say that it's got everyone — protesters and law enforcement alike — upset.