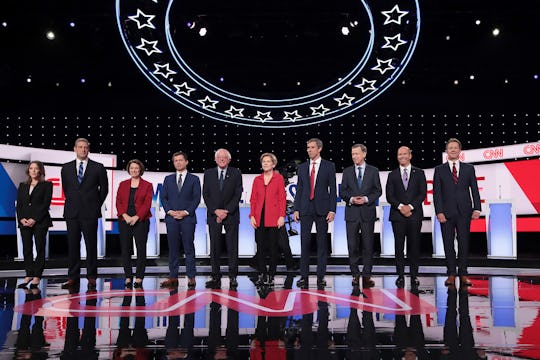 Scott Olson/Getty Images News/Getty Images
Here Are The Democratic Candidates Who Support Medicare For All
Most Democrats are on-board with the idea of expanding health care, but many differ on the extent and range of its implementation. During the second Democratic Debate on Tuesday night, candidates were vocal about their policy differences, with some insisting that a single-payer option is the only way forward. So, out of the current line-up of presidential candidates, who supports Medicare For All?
Everyone on debate stage agreed that the country's current health care system needs to improve, but some think that the government should do all the heavy lifting. This past April, Sen. Bernie Sanders — who's been a major proponent of Medicare for All — introduced a bill to the Senate floor proposing health care as a guaranteed right, not a privilege.
According to Sanders website, he collaborated on the Medicare for All bill with 14 other Democratic Senators, including Cory Booker, Kirsten Gillibrand, Kamala Harris, and Elizabeth Warren.
"The Medicare for All Act of 2019 would ensure that Americans could go to the doctor of their choice and get the care they need, when they need it, without going into debt," his website reads. "It would significantly lower the price of prescription drugs by empowering the federal government to negotiate with pharmaceutical corporations. And it would expand coverage to include home and community based long-term care services, ensuring people with disabilities can receive the care they need to stay in their homes and remain part of their communities."
During the debate, Warren and Sanders teamed up as one voice on health care, both insisting that there's no better option for Americans than a single-payer system. Other candidates, including Indiana Mayor Pete Buttigieg and former Congressman Beto O'Rourke, are partly supportive of the Medicare For All plan, but they do think it should only be implemented if it can work.
"We don't have to stand up here speculating about whether the public option will be better or Medicare For All environment will be better than corporate options," Buttigieg said during the debate. "We'll put it to the test I think you can buy into it. That's the idea, of Medicare For All that want to."
O'Rourke isn't on-board with raising taxes to pay for Medicare For All, so he detailed his own plan during the debate. "The middle class will not pay more in taxes to ensure that every American is guaranteed world-class health care," he said. "I think we're being offered a false choice. Some who want to improve the Affordable Care Act at the margins, others who want a Medicare For All program that will force people off of private insurance, I have a better path: Medicare for America."
But other Democrats, including Rep. Tim Ryan and former Rep. John Delaney are totally against Medicare For All, and during the debate, they took jabs at Warren and Sanders. "We have a choice," said Delaney. "We can go down the road that Sen. Sanders and Sen. Warren want to take us, which is with bad policies like Medicare for All, free everything and impossible promises; it will turn off independent voters and get Trump reelected."
But Warren was quick to warn Delaney that Democrats should steer clear of using Republican talking points to win. "We are the Democrats," she said. "We are not about trying to take away health care from anyone. That's what the Republicans are trying to do. We should stop using Republican talking points in order to talk with each other about how to best provide that health care."
There is still another night of debates left, and hopefully, it will give Americans a better idea on where the rest of the Democratic candidates stand on health care.