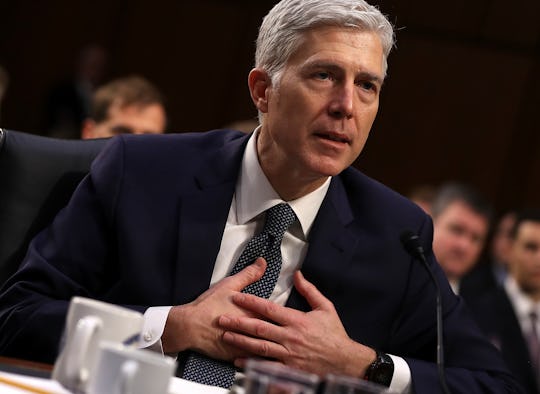 Justin Sullivan/Getty Images News/Getty Images
Here's Who's Backing Neil Gorsuch's Nomination
Judge Neil Gorsuch was nominated by President Donald Trump to fill the Supreme Court Seat vacated by Justice Antonin Scalia following Scalia's death last year. Gorsuch is a federal appellate judge on the United States Court of Appeals for the Tenth Circuit and a staunch conservative. Gorsuch's nomination has been met with steadfast opposition from Democratic legislators after their Republican colleagues refused to hold hearings for D.C. Circuit Chief Judge Merrick Garland, then-President Obama's nominee for the vacancy, following Scalia's death. As Gorsuch's Senate vote gets closer, Democratic leaders are vowing to fight his approval. But while Trump's nominee is facing serious opposition, Gorsuch does have support from Republican legislators. The strong partisan divide in Congress, though, will make Gorsuch's approval more complicated.
During Gorsuch's confirmation hearing, Democrats and Republicans alike complained about the partisan divide over the Supreme Court appointment. Republican senators on the Senate Judiciary Committee took time in their opening statements to praise Gorsuch and implore their colleagues to look past party lines for this vote. According to CNBC, Republican Sen. Lindsey Graham said that no Democrat has been able to "prove that Gorsuch is not suitable for the job." Graham also cited his support for Elena Kagan and Sonia Sotomayor, two of Obama's Supreme Court nominees, as an example of bipartisanship.
Despite their efforts to get Democrats on board with Gorsuch's appointment, it looks like Republican legislators will have to face a filibuster first. Senate Minority Leader Chuck Schumer stated he will not be voting to appoint Gorsuch to the Supreme Court on Thursday and advised his colleagues to do the same. "After careful deliberation, I have concluded that I cannot support judge Neil Gorsuch's nomination to the Supreme Court," he said while speaking on the Senate floor. "His nomination will have a cloture vote. He will have to earn 60 votes for confirmation."
The Senate currently has 52 Republicans and 48 Democrats, which means the Republicans will need to get 8 of their democratic peers to vote for Gorsuch. While prominent Democrats, such as Schumer and Sen. Elizabeth Warren, are ready to filibuster Gorsuch's Senate vote, others in their party aren't so sure. Some Democrats believe that supporting Gorsuch now is the best option for their party's long term benefit. Sen. Chris Coons said he wasn't going to "do to President Trump's nominee what the Republicans in the Senate did to President Obama's," and that he would "push for a hearing and I will push for a vote." Other Democrats, such as Sen. Angus King and Sen. Gary Peters, have stated they will follow the judiciary process and vote based on Gorsuch's qualifications.
Democratic leaders are definitely going to put up a fight against Gorsuch, however, it seems unlikely that they will be able to block his appointment. Gorsuch will be more than likely be able to acquire enough Democratic support to become the next Supreme Court Justice. Even if he doesn't, though, President Trump is advising Senate Majority Leader Mitch McConnell to utilize the nuclear option. NBC News reports that,
... Invoking the nuclear option would lower the bar for what it takes for a Supreme Court nominee to be confirmed. It would set a precedent that essentially takes an important parliamentary move off the table for the minority party — the filibuster. And the lower threshold could give presidents less of an incentive to nominate judges with views considered mainstream.
Many Democrats are still deciding whether or not they will join Schumer's filibuster. Sen. Al Franken came forward on WCCO Sunday morning to state he will not be supporting Trump's nominee. Gorsuch only needs eight Democrats' support for his appointment to pass the Senate, but only time will tell if he will receive their votes.