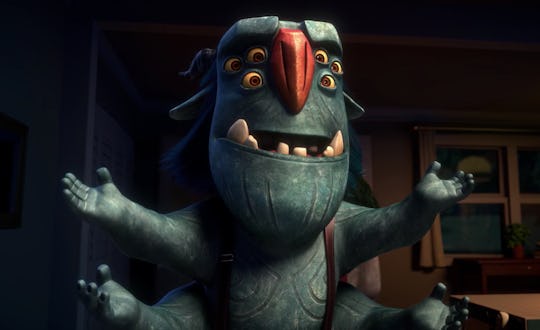 Courtesy of Netflix
Who Is The Familiar Voice Behind Blinky On 'Trollhunters'?
Netflix has just released the third and final season of Trollhunters by Guillermo del Toro, which has kids and adults alike in binge mode. Whether you're a first-time watcher or are working on finishing the series, you likely noticed that there is one character in particular who has a very distinct and familiar voice. So, who voices Blinky on Trollhunters? The answer is the one and only Kelsey Grammer! See? Told you it was familiar!
Best known for his role as Frasier Crane on the hit 90s sitcom, Frasier, Grammer has been a staple voice on Trollhunters. The actor has been voicing Blinky, a chief troll advisor, since the series premiere on Netflix in 2016. According to Grammer's IMDb page, he's recorded 52 episodes in total for the animated series. However, as previously mentioned, Trollhunters ends with it's third season. While there are two more chapters in the Tales of Arcadia trilogy to come, it's unclear if Grammer and his beloved Blinky will be returning. In fact, it's currently unclear if any of the Trollhunters characters will be appearing in the next chapters which Guillermo del Toro has revealed will be called 3 Below and Wizards. That's kind of a bummer, huh?
Grammer is no stranger to voice acting, and Trollhunters was definitely not his first animated character. Believe it or not, Grammer is also the voice behind one of the biggest recurring characters on the hit series, The Simpsons: Sideshow Bob! He's been voicing the criminal mastermind for -- wait for it -- 27 years! Because of his longstanding work on the show, you can also hear Grammer's voice acting skills as Sideshow Bob on The Simpsons ride and The Simpsons video game.
In 2003, Grammer voiced the lead character in an adult animated series called Gary the Rat -- a series that only lasted for one season. Prior to that, Grammer can be heard as Stinky Pete the Prospector in Toy Story 2, the narrator of Mickey's Once Upon A Christmas, and Vladimir in Anastasia.
Surprisingly, Grammer was only vaguely familiar with Guillermo del Toro's work before being cast in Trollhunters. "I love the animated film Book of Life. I thought it was so effervescent, full of energy, beauty," Grammer said in an interview with Fandom on YouTube. "I loved the performances, I thought it was great."
As for Blinky, Grammer calls him a "Master Troll" and explains how he guides Jim Lake Jr. through the world of trolls. "He helps our young hero, Jim, find his destiny, basically," Grammer explained in the aforementioned interview. "He guides him and teaches him about the troll world and what the importance is of fighting for something that's good and right. It's a fun character."
As we patiently await news of whether or not Grammer's Blinky will be back for the next chapters in Tales of Arcadia -- 3 Below followed by Wizards -- the actor is keeping busy. He has a new movie out called Guardians of the Tomb, in which a mummified Emperor from China in 200 B.C. is discovered along with secrets that should have remained buried. Plus, Grammer will be co-starring alongside Kristen Bell and Seth Rogen in the upcoming family comedy, Like Father. In the film, a workaholic gets dumped at the altar and is forced to take her pre-paid honeymoon vacation with her father. Obviously, chaos ensues. So far there is no offiicial release date for that one, but we'll definitely be keeping our eyes peeled for one soon. After all, IMDb lists Like Father to be released in 2018 -- so fingers crossed that's accurate!