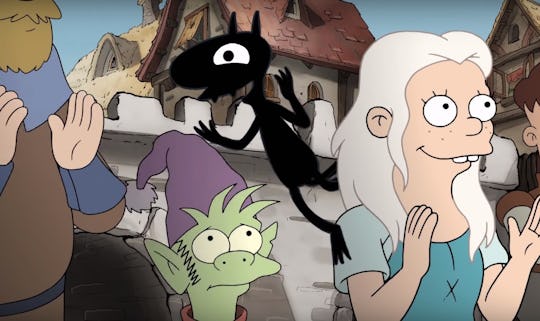 Netflix/YouTube
The Actor Who Voices Luci On 'Disenchantment' Was Made For The Role
If you ever wanted to watch a cartoon sitcom that combines the humor of Futurama with the whimsy of The Hobbit, then Disenchantment on Netflix will probably do it for you. It certainly helps that the cast is full of perfect voices for each role, including Eric Andre, who plays Luci on Disenchantment. The newest Netflix grown-up animated series is about a boozy princess and her sidekicks: one elf and one "personal demon." In this case, Princess Bean's personal demon is Luci, who travels with her on their many misadventures in Dreamland. Luci looks like a shadow demon with a few scales on the chin and a spiked tail.
In an intro video about Luci, the demon says that his goal is to take all of the worst parts about mankind and their world and make them even worse. He's the cynical little devil on Bean's shoulder at all times — but he can be charming too. The fact that all of this can be conveyed in one tiny character is thanks to the actor behind him. It may come as a surprise but Andre isn't a total stranger to voice work. He definitely has one of those recognizable voices that you either recognize right off the bat or wonder for hours afterward how you know the guy behind the animated character.
As far as Andre's past voice work goes, he's lent his voice to a couple of different adult cartoons before. In 2015, he voiced a few different characters on Robot Chicken and on Lucas Bros Moving Co. Then in 2016, he played a character on an episode of American Dad! In 2019, he's going to be the voice of Azizi in the new Lion King movie, so even though Andre may be more known for his live action acting and comedy work, this isn't his first rodeo when it comes to cartoons.
He's been acting for a little more than 10 years and Andre has managed to get several TV shows under his belt. You might recognize him from The Eric Andre Show (of course), Man Seeking Woman, or 2 Broke Girls. He was also in the movies Rough Night and Popstar: Never Stop Never Stopping, so chances are, you've been introduced to his particular brand of comedy before.
"I just got an email from my agent, and look, I never book these things. I've auditioned for cartoons a handful of times, and I never booked a single one," Andre admitted to the A.V. Club in an interview. "But I saw Matt Groening's name on it, and I was like, 'I have to at least send a voice memo.' And then I got a call back, and I was like, Whoa. That's never happened.'"
Josh Weinstein, executive producer of Disenchantment, said in the same interview that Andre had sent "one of the funniest auditions we ever heard." So it was probably a no brainer to bring Andre on to play Luci on Disenchantment.
Disenchantment premieres on Netflix on August 17 with its inaugural season, but I think we can all agree that anything created by those behind The Simpsons won't have a hard time finding a fanbase. It's a definite plus that there are some strong voices behind these soon-to-be loved characters and Andre is just one of many who are sure to knock it out of the park.